The Government in 2003 promulgated a decree on environment protection fees aimed at limiting environmental pollution caused by wastewater from households and companies. To date, however, many companies have failed to pay the fees due to lax implementation of the policy.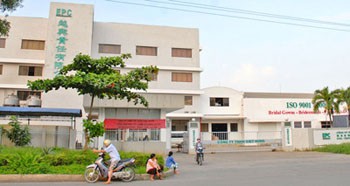 A corner of Viet Hung Ltd Company, one of companies own environment protection fee since 2004, in District 7, HCMC (Photo: SGGP)
The Nikkso Vietnam Ltd. Company in Tan Thuan Export Processing Zone (EPZ) is a typical case. Ho Chi Minh City's sub-department of Environment Protection said the company was required to begin paying environmental protection fees for its wastewater in 2004.
The company, however, has yet to make a single payment while continuing to release around 11,000 cubic meters of wastewater each quarter.
Many other companies including the Tan Phu Thinh Private Company in Go Vap District, Viet Hung Ltd. in Tan Thuan EPZ, and Phan Muoi Ltd. and Thien An Production Unit in Hooc Mon District, also owe fees.
On average, these companies discharge around 9,000 cubic meters of wastewater into the environment each quarter.
The sub-department says it has sent staff to companies many times, but managers will often assign their employees to meet with officials instead of taking responsibility themselves. The staff then claim not to understand procedures for submitting fees and the issue is simply ignored.
Like several other managers, a representative from the Tan Phu Thinh Private Company, whose firm owes environmental protection fees of around VND1 billion (US$56,000), said the company has not paid because the fee-calculation process has not been clearly outlined.
State budget losses
Sub-department deputy head Nguyen Minh Hoang said the environmental protection fees are collected in different ways.
Accordingly, the Saigon Water Supply Company and other water suppliers in the city collect environmental protection fees for household wastewater through monthly water bills.
District and commune People's Committees, however, are responsible for collecting fees from households that supply their own water.
Meanwhile, the sub-department and relevant agencies receive fees from companies.
So far, collection of fees from households has worked well, since failure to pay means having their water cut off.
Tran Ngoc Dinh, deputy head of the office for collecting environment protection fees, said that individuals are also paying more in fees than businesses that cause more pollution.
People are charged from VND250-700 for each cubic meter of fresh water while some businesses pay just VND100-200 per cubic meter.
Businesses operating in the same field have also seen discrepancies in the fees they pay, Dinh said.
Companies with wastewater treatment systems have to pay over VND3,000 to treat a cubic meter of wastewater, in addition to paying environment fees; while companies without such systems pay only around VND1,000 per cubic meter in fees.
Improved laws needed
Mr. Hoang said that lax regulation is the main reason companies fail to pay environmental protection fees.
The highest penalty for not paying the fees is only a few million dong, often lower than the environment protection fees themselves. Thus, many businesses simply pay the fines instead.
In addition, the sub-department and relevant agencies do not have the necessary software needed to effectively manage and follow-up with companies.
There are still many gaps in the Government's regulations, leading the State to subsidize environment protection fees while residents endure pollution.