Four hundred businesses and showrooms in Ho Chi Minh City have completed preparations for the annual "sales month" in September.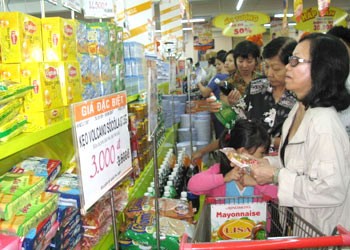 A Co.opMart outlet on Cong Quynh Street in HCMC's District 1. The supermarket chain will take part in an annual sales month to be held in the city in September.
For the first time enterprises will cooperate to promote their products by giving away also their partners' discount coupons when customers buy their products.
 
The program, launched by the city Departments of Industry and Trade and Culture, Sports and Tourism, has also attracted 30 hotels who will offer an average discount of 30 percent.
 
Many cheap local tours will be also introduced at the event.
 
The organizers will provide 20,000 brochures about the program and upload information about participating shops on the trade department's website.
 
The Saigon Trading Group and Saigon Co.op will hold sales at 10 export processing zones and suburban and remote areas.
 
As part of the event, a Sales Month Fair will be held from August 31 to September 4 at the HCMC International Exhibition and Convention Center in Tan Binh District to sell mostly "Vietnamese high-quality products" and essential goods.
 
The city began holding the sales month in 2005.