HCM City-based businesses are very low-tech and large amounts of investments are needed to turn the situation around, according to a recent survey by the Department of Science and Technology.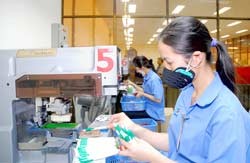 Workers make ball-point pens at a factory of Thien Long Co. in HCMC. A survey has indicted city firms for failure to use the latest technologies (Photo: SGGP)
Out of the 630 businesses surveyed in 17 industries, only 1 percent use advanced technologies.

The survey appraised equipment, organization, human resources, and information technology at the businesses, Phan Minh Tan, director of the department, said.
It found that 60-70 percent of the surveyed businesses use modest technologies, with just 18 percent obtained from the U.S., Europe, or Japan.

Eighty percent of the businesses are weak in terms of organization and human resources.
Sixty percent of businesses in industrial parks and export processing zones use secondhand machinery and equipment, of which 81 percent have been used for over 10 years and 25 percent need to be overhauled or upgraded.
The average spending on new machinery and equipment is only 11 percent of the annual expenditure.
Only 39, or 5.8 percent, have invested in research and development. But even their spending is modest at just 4 percent of their operating expenses.
Only 6 percent of the overall workforce have university degrees while almost a third need further training.
The survey also found that 25 percent of the firms cause pollution and only 30 percent comply strictly with environmental regulations.
Following the survey, the department has recommended to city businesses to step up R&D spending, training, and technological renovation so that they can improve their competitiveness in this era of globalization.