Ho Chi Minh City People's Committee Deputy Chairman Nguyen Huu Tin this morning called on South Korean businesses to invest in five key fields including infrastructure construction, support industry, hi-tech, human resource development and Vietnam-South Korea labor cooperation, and environment protection.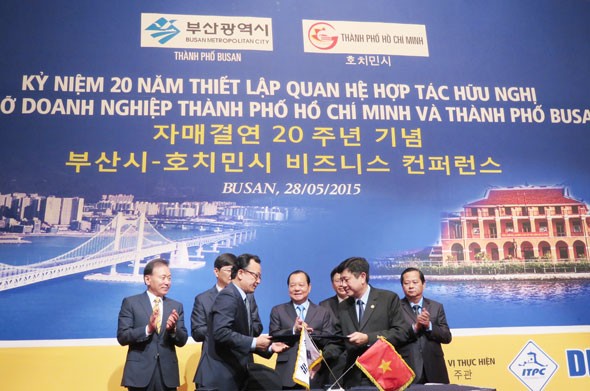 HCMC Party Committee Secretary Le Thanh Hai attends the MoU signing ceremony between Satra and its Korean partner (Photo: SGGP)
He made the invitation at a seminar themed 'HCMC-Busan together develops' in Busan, the Republic of Korea (RoK) by the Busan International Relations Department and HCMC Investment and Trade Promotion Center.
"We pledged to do our best to ensure a stable political and social environment, protect legal rights and benefits for investors as well as create the best conditions for foreign and Korean companies to operate effectively in long term in HCMC," he said.
Attending the seminar was Busan deputy mayor Kim Kyu-Ok, Honorary Consul General of Vietnam to Busan Park Soo-kwan, and 100 Korean businesses.
HCMC side comprised the city Party Committee Secretary Le Thanh Hai together with leaders of some agencies and 40 businesses.
The HCMC and Busan relationship has been established and developed for the last 20 years. South Korea is ranked fourth in foreign direct investment (FDI) capital in HCMC.
As of March this year, the city had 5,369 FDI projects with US$37.25 billion. 1,069 of these belong to Korean investors with investment capital totaling US$3.6 billion. They have mainly operated in real estate, construction, processing and manufacturing, electronics, wholesales and retail, automobile and motor cycle repair service.

Ms. Pho Nam Phuong, director of the HCMC Investment and Trade Promotion Center, said that Korean companies had so far opened 320 representative offices in the city. They come from fields such as garment and textile, and seafood exports; steel, medicines and machines imports; shipping and logistics services; aviation and community assistance.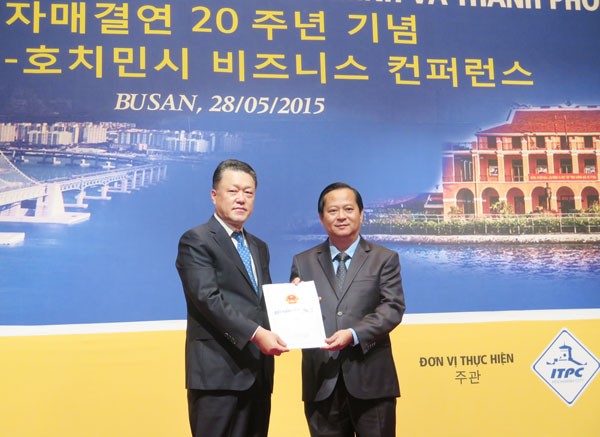 HCMC People's Committee Deputy Chairman Nguyen Huu Tin (R) grants investment certificate to a Busan business (Photo: SGGP)
The recently signed VN-RoK free trade agreement will facilitate the two countries' trade with many tax cuts and Korean investment in Vietnam.
HCMC has applied preferential and flexible policies to draw foreign investment, simplify customs and tax procedures, and provide Rok investors with many choices in investment forms including Public Private Partnership (PPP), creating an advantageous condition for them to attend in key projects of HCMC, she added.
Busan deputy Mayor Kim Kyu-Ok said that the city had organized annual activities to promote trade cooperation between the two cities. Groups of Korean small and medium enterprises have attended exhibitions and fairs in HCMC. This October, about 10 companies will participate in a machine exhibition fair in HCMC.
"HCMC and Busan have continuously promoted their cooperation in economics, culture, tourism and other fields for the last two decades. I believe that we will need to boost these activities in both quantity and scale in the time ahead," said Mr. Kim.
At the seminar, Saigon Trading Group signed a Memorandum of Understanding (MoU) on a US$1 million contract to import seaweed and other consumer products from of Elade Company.
The group also signed another MoU with Heartychem Corp on a US$3 million contract to export cassava slides, pressed rice husk firewood and consumer goods.
Deputy Chairman Tin granted investment certificates to Tae Kwang Group and Daeyoung Electronics Company. The former will build a US$39.6 million fertilizer plant with a capacity of 360,000 tons a year. The later will invest in a US$63 million project to produce Led screens and electronic components.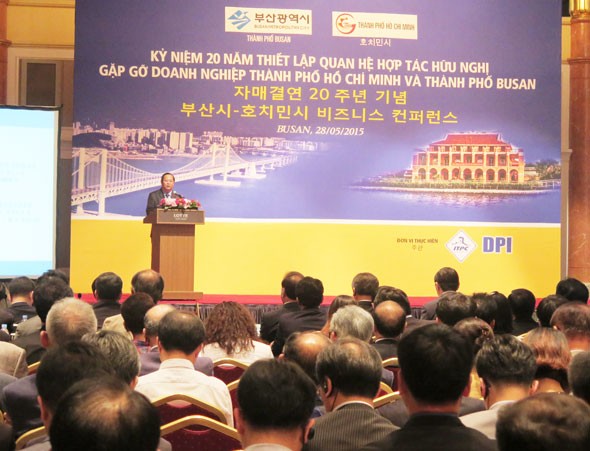 Vice Chairman Tin delivers a statement at the seminar (Photo: SGGP)