Key industries in Ho Chi Minh City have a growing need for experts to help the city and country during a period of rapid development and global integration. For that reason, overseas Vietnamese (Viet kieu) experts are being urged to return to their homeland.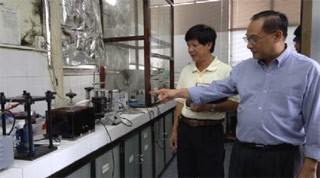 Dr. Nguyen Chanh Khe introduces the nanoparticle manufacturing machine created by him and his colleagues at the Hi-tech R&D Center
There are as many as 300,000 Vietnamese experts living abroad, among them 150,000 in the U.S., 40,000 in France, and 20,000 in Canada. In California's Silicon Valley alone, there are over 10,000, some of whom own hi-tech firms.
 
Many leading experts in key fields such as biology, electronics and aviation are Viet kieu.
 
Realizing the importance and potential of Viet kieu expertise, authorities are finding ways to encourage them to work for local research institutes.
 
Phan Minh Tan, director of the Ho Chi Minh City Science and Technology Department, said, "We are working with the Committee for Overseas Vietnamese to approach Viet kieu experts as soon as they return home. The Overseas Vietnamese Enterprise's Association is also a way for us to get in touch with them and encourage them to take part in the development of the country."
 
According to Mr. Tan, the department also plans to utilize their abilities even if they continue to live outside the country.
 
"It's not always necessary for them to be resident staff members at local universities or institutes. Geographical distance is no longer an obstacle to the exchange of information. We can commission scientific studies from experts working in the United States and they can just send the results back home when they're done," he said.
 
The Department has planned to create a science and technology institute. Looking at the names listed on the management board, it is impossible to miss that of Professor Phan Huyen Thanh, who is currently living abroad.
 
Prof. Thanh will manage the institute but will also act as a bridge for Viet kieu scientists to come home.
 
For many overseas Vietnamese intellectuals, applying their knowledge and ability to develop their homeland would be a wish come true.
 
Dr. Nguyen Chanh Khe, a respected scientist who has worked for big corporations in the U.S. and Japan, came back to Viet Nam in 2002 to work as the director of the Sai Gon Hi-tech Park's Research and Development Center.
 
He is one of the first Viet kieu scientists to have been repatriated and employed by local organizations. His inventions, for which he holds over 60 patents, have been widely applied in the manufacture of photocopy machines and personal computers.
 
Dr. Khe confided, "I came back home to assist my country."  
 
Having received the same respect from the Government, other Viet kieu scientists are planning to come home and work in the homeland.