For years, Ho Chi Minh City has gained achievement in poverty reduction which is a contributable factor to keep political and social order.
Currently, it has carried out multi-dimensional poverty reduction program for the period 2016-2020. In the third phase, more than 93,000 households in the city have escaped poverty.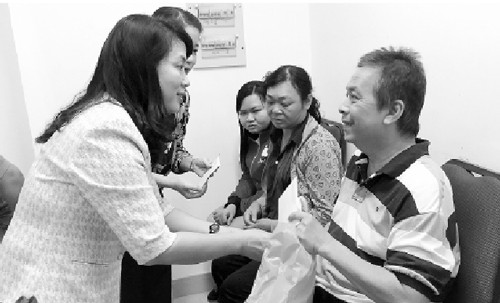 City's Labor Union Chairwoman Ms. Tran Kim Yen gives gifts to poor laborers on occasion of Tet holiday (Photo: SGGP)
By statistics, 34,800 households are no longer rated as poor households in 2011 meanwhile 29,968 and 28,300 households no longer needed support of the government for low-income households in 2012 and 2013 respectively, helping to decrease the rate of poverty households from 5.69 percent in 2011 to 0.57 percent in 2013.
Accordingly the city has ended the third phase to reduce poor houses and increase average households (poor households are those with income of below VND12 million (US$ 529.4) per person per year, two years earlier than the Party's resolution wrote.
Under the new standard for the period 2014-2015, families with income of under VND16 million a person per year are ranked as poor households and those with VND16 to VND 21 million a person a year are families whose economic condition is close to poverty line. 
At the end of 2014, the city has approximately 55,000 poor households, accounting for 2.8 percent of the whole population and 59,000 close to poverty line accounting for 3 percent. Until end of 2015, the city efforts to decrease poverty households were rewarded as the number of low-income families is just around 30,000 households accounting for 1.53 percent and 35,000 close-to-poverty families accounting for 1,78 percent.
HCMC carried out well poverty reduction policies in the period 2014-2015 combining with the government's new rural plan and increase people's awareness of escaping poverty. Along with this, the city spent fund from social policy bank, fund to eliminate poverty, the national fund for employment, and the fund 156 for vocational training and employment for those whose land was reclaimed to provide training to 2,000 residents a year as well as employment for approximately 15,000 laborers from low-income families. Overall, the city strived to improve poor people's living condition.
However, the city faced some difficulties as the government issued new standard of poverty and some poor people still have the habit to rely on the government's aid. Some localities are not determined in carrying out the program and change in the number of staffs affected the implementation of the results.
To have a thorough look at the poverty in the city, it should adopt a multi-dimensional poverty approach. To identify poor and near-poor households, the program will use as criteria income, education and training, healthcare, employment and social insurance, living conditions and access to information to identify poor and near-poor households.
Poor households will be those who lack one or two above-mentioned criteria  or their income is below VND21 million a person a year meanwhile near-poor families have income from VND21 to VND28 million per person year and have the criteria rate under 40.
Authority has approved the sustainable poverty reduction program and new criteria in December, 2015 for the period 2016-2020. HCMC is the only city in the country piloting adopting the multi-dimensional poverty plan and related matters including services for vulnerable residents. The city also launched policies to increase income for people and improve the education and training, healthcare, employment and social insurance, living conditions and access to information.