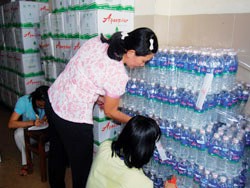 A HCMC health department official seals bottles of Aquaphar made by Tam Dang Company last March after they were found to be contaminated with bacteria (Photo: Thanh Nien)
The Ho Chi Minh City Department of Health suspended September 16 five bottled-water producers for failure to comply with food hygiene and safety norms.
They include household business Nam Hung that makes Aqualand and Hung Tan Tien Ltd Co that makes Fusiwa in Tan Phu District, Tham Son Trade and Production Co in Tan Binh District that makes Amazona, Nam Duc that makes Apollo in District 9, and and Nhon Trach that makes Safewa in Nha Be District.
Department inspectors, who visited the companies, ordered for all lots failing to meet quality requirements or without production dates to be destroyed.