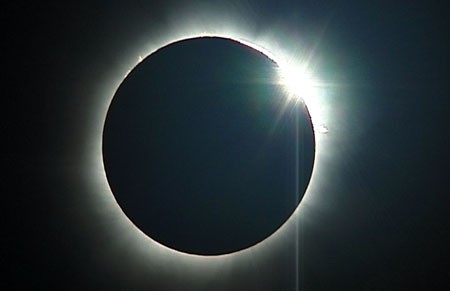 A picture of a total solar eclipse
The Ho Chi Minh City Amateur Astronomy Club (HAAC) and the city's Children House will organize a free get-together at the House on the July 22 morning to guide viewers of the century's longest total solar eclipse.
Scientists say the maximum duration of totality of the solar eclipse will last six minutes 39 seconds.
Vietnam is outside the path of the total solar eclipse of July 22, so people in the country can see it partially. For Vietnam time, the natural phenomenon is to start at 7:10 am.
At the get-together at the HCM City Children House, located at 36 Le Quy Don Street, District 3, HAAC engineer Nguyen Tuan will brief children about the natural phenomenon and instruct how to view it safely.
According to the Amateur Astronomy Club, in the city, the solar eclipse will start at 7:17 am, get the climax at 8:13 and finish at 9:16 am.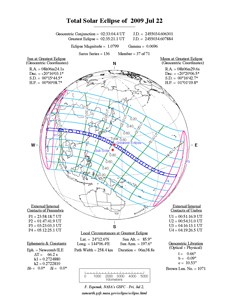 NASA map of the total solar eclipse of July 22, 2009
NASA writes on its eclipse website that the total solar eclipse of 2009 July 22 is visible from within a narrow corridor that traverses half of Earth. The path of the Moon's umbral shadow begins in India and crosses through Nepal, Bangladesh, Bhutan, Myanmar and China. After leaving mainland Asia, the path crosses Japan's Ryukyu Islands and curves southeast through the Pacific Ocean where the maximum duration of totality reaches 6 min 39 s. A partial eclipse is seen within the much broader path of the Moon's penumbral shadow, which includes most of eastern Asia, Indonesia, and the Pacific Ocean.
Vietnam saw a total solar eclipse on October 24, 1995. Phan Thiet City in the central coastal province of Binh Thuan was among the best places to view it. Since then, the city has become a popular tourist destination for both Vietnamese and foreigners.