Thousands of residents look to go green by recycling their rubbish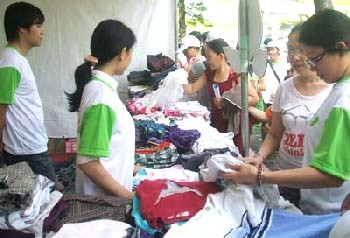 A "Waste Recycling Day" booth at Le Van Tam Park on Apr 18, where visitors can trade their waste for some gifts (Photo: SGGP)
Some 8,000 people dropped off their trash at District 1's Le Van Tam Park for Ho Chi Minh City's "Waste Recycling Day," in which HCMC Department of Natural Resources and Environment collected any and all rubbish in order to transform it into reusable goods.
Collection booths at the park were busy from the break of dawn, with local citizens dropping off batteries, light bulbs, containers, wrappers and anything else that could be recycled.
Many booths gave contributors small gifts in return for their waste.
Other booths demonstrated recycling techniques and short documentary films about environmentalism. The event was organized by the municipal Department of Natural Resources and Environment.
Addressing at the opening ceremony, Mr. Bui Cach Xuyen, head of Environmental Protection Head Office, emphasized that waste recycling was more necessary and popular these days due to the rapid exhaustion of the earth's natural resources over the last several years.
The city releases 6,000 tons of waste a day, he said, adding that only 10% of that trash is recycled while 90% is dumped into the ground.
Mr. Xuyen the problem was a burden on the city budget both in terms of economics and health concerns.
He said recycling was best solution to the city's current pollution problem. He also suggested residents help local officials by classifying waste before throwing it away. He said these small contributions would be important to facilitating smooth recycling mechanisms throughout the city.
In related news, on the same day, the city's Communist Youth Union signed a memorandum with local Government departments to plan several environmental works.
According to the memorandum, the Union will host an awareness campaign to bring knowledge about public reproductive health, occupational diseases, and medical insurance to more than 1,800 workers at six local processing and industrial zones.
Other campaigns targeting workers will follow up, including courses to help 6,000 workers enrich their knowledge about preparing nutritional meals, the opening of shops inside the zone to sell discounted products, and raising workers' knowledge of environmental sanitation.
Other public campaigns will also be held to encourage local youths to classify waste and spread awareness of environmental initiatives.
The Union will also dispatch its volunteer groups to raise awareness of safe driving. Young doctor groups will be sent out to care for workers as well.