Commercial centers in Ho Chi Minh City are flooded with foreign well-known brands, while made-in-Vietnam goods account for less than five percent of the products.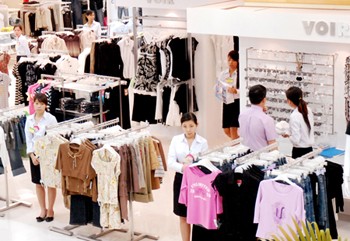 Foreign fashion clothing selling at a commercial center in HCMC (Photo: SGGP)
While commercial centers like Saigon Center, Diamond Plaza, Parkson and Vincom Center clearly favor foreign well-known brands from watches to perfume, jewelry and clothes, only Zen Plaza is willing to patronize local garment designers.
Zen Plaza offers a variety of made-in-Vietnam clothing, offering an opportunity to young designers to market their collections. However, the expensive price range is affordable only to the rich middle or upper class, partly due to high rentals and overhead costs at the Plaza.
When most of these commercial centers opened way back in 2002-2007, consumers could buy many familiar Vietnamese brands like Ca-ro, Viet Thy, Anh Thu and NinoMaxx. However, over the years they have made way for well-known foreign labels.
A fashion entrepreneur said that when Parkson first opened, his company paid a high rental to do business there. However, the rental kept increasing within short durations and his company could no longer afford to keep the space.
Within the last five years, new commercial centers like Saigon Square and Anh Linh have come up, that are supposedly meant to offer more local made clothing from Vietnam and Cambodia.
However, when market management officials launched inspections of these centers, they found that the centers were actually selling well-known foreign brands and even counterfeit brands.
According to Huong Giang, a regular customer at Diamond Plaza and Saigon Center, foreign made clothes are usually made from soft quality fabrics and have styled and eye-catching designs, which is not the case with Vietnamese manufactured garments.
Manager of a commercial center said that most Vietnamese items have not met consumer demand in style and cut, which is why Vietnamese goods fail to attract buyers. Besides, high rentals are also perturbing to most medium businesses.