Ho Chi Minh City decided to revoke over 500 dragging projects in 2013. However, local authorities have been confused in solving them after the decisions were made.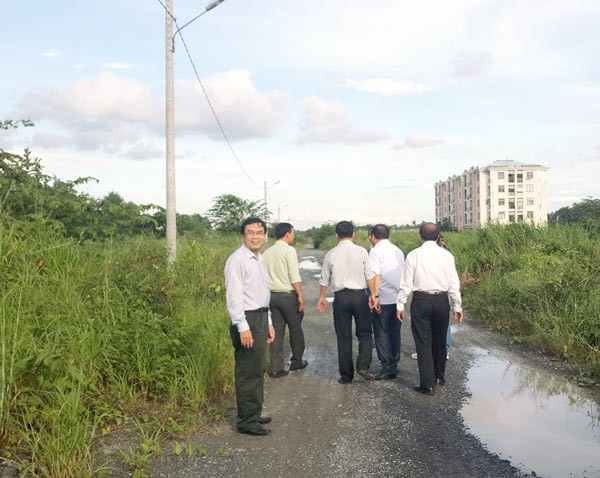 The five storey apartment block is lonely located amid a field in Thoi An ward, district 12 (Photo: SGGP)
Thousands of billion of dong poured into these projects have seemed to endlessly been buried underground with built parts.
In 2009, the city People's Committee permitted Binh Chanh Construction Company to develop a 12 hectare housing project in Phong Phu ward, Binh Chanh district. Five years later, the Department of Natural Resources and Environment (NRE) issued a decision to withdraw it because compensation reached less than half of total.
Deputy director general of the company Truong My Linh said that they had invested over VND200 billion (US$8.93 million) in the project. Although it has been suspended, the company till has to pay bank interest and staff's salary to maintain its operation. It has allowed local people to do farming in the area where compensation has been completed.
A 38 hectare villa project by Trien Phong Service Company in the same commune has been ended with land being returned to local residents. However, no one has dared to build or repair houses because authorized agencies have not removed the plan of this area.
Saigon-Gia Dinh Real Estate Company has been unable to complete site clearance over 4,700 square meters of a 15 hectare housing project in Thoi An ward, district 12 for failing to keep its words to compensate residents at VND2.5 million a square meter.
The company pleaded real state difficulties to down the price to VND2 million but local people did not accepted.
That has left the project incomplete with only a five story building having been built without leading roads or any other infrastructure.
Customers who have made payment for the project's apartments in advance have no choice other than moving into the building to live without management board, maintenance, fire fighting and prevention facilities.
Explaining for the half-done condition of many projects, Mr. Tran Van Thach, deputy director of the Department of NRE, said that financial ability of some investors was limited. However when they asked for investment licenses, district authorities required their projects to comprise schools, hospitals and parks also.
According to Mr. Thach, authorized agencies and businesses should work together to consider solutions. If investors are able to continue building with some adjustments to reduce the scale of their projects, local authorities should permit them to do so and return the remaining area to residents. If they are not able to continue, the projects should be revoked and handed over to other investors.
Sharing the same view, director of the Department of Construction Tran Trong Tuan proposed to change projects' boundary so that investors could continue implementation in the area with done site clearance. However they must ensure that traffic, lighting and water infrastructure will be built synchronously.
In case investors have strong financial ability, local authorities should assist them to reach an agreement on compensation price with residents. Another measure was inviting qualified tenders to complete the half-done projects, Mr. Tuan said.