A Ho Chi Minh City delegation that went to Singapore on a fact-finding mission for developing a green and organized city has returned with a clutch of recommendations.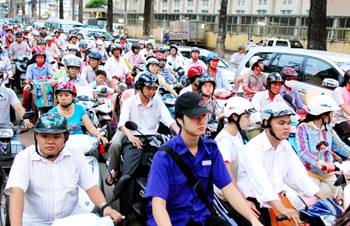 Traffic jams like this one are a daily problem in HCMC. A city delegation has returned from Singapore with ideas to clear up the roads and make the city greener and cleaner (Photo: SGGP)
Speaking at a seminar held by the city People's Council on September 8, Tran Quang Phuong, director of the Department of Transport, who headed the delegation, said Singapore does efficient overall planning and incorporates details in the plans.
On the other hand, HCMC usually approves plans for individual projects first before they are incorporated into its overall plans, he said.
He urged the People's Committee to direct the Department of Planning and Architecture to make macro plans and announce them publicly so that people can give their opinions.
To manage urban traffic, he said building new roads and upgrading old streets should dovetail with the ongoing construction of the drainage system, and the city should quickly set up a modern traffic control center.
For public transport, the city should develop urban railway and bus systems and collect toll on some roads that are usually crowded.
He also suggested increasing spending on creating green space and building sidewalks separated from the road by trees and flower pots.
Pushing metro projects
Another delegate, Truong Trong Nghia, said the city should first build a metro and develop public transport and limit private vehicles.
He agreed with some other delegates on banning cars and motorcycles from some streets during rush hour or, instead, collecting toll.