The annual charity bazaar will be held at the Legend Hotel Saigon at 11am to 3 pm on November 14 by the HCM City Consular Club.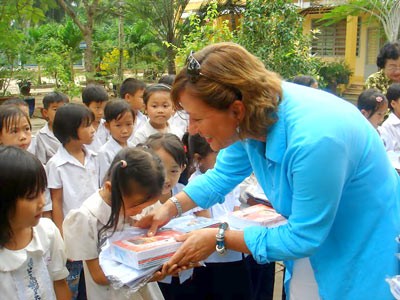 Mrs. Heleen Schellaars gives away books to disadvantaged children in Ho Chi Minh City.
This year's bazaar attracts 21 countries offering a range of items including food, clothing, jewelry and souvenirs.
All proceeds will be donated to a fund for helping disadvantaged people in Southern Vietnam.
Visitors will have a chance to taka part in a Grand Raffle which is scheduled at 1 pm at the day with prizes worth more than US$100 of each.
Entry tickets cost VND50, 000 for adults. Children under 10 do not pay for entrance fee.
In 2008 the Charity Bazaar attracted hundreds of Vietnamese and foreign visitors and raised over VND 1 billion. These funds have already benefitted 20 projects.