The Ho Chi Minh City Department of Health has said no fresh cases of cholera or acute diarrhea have been reported in the last fortnight.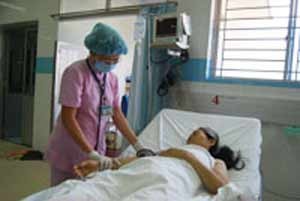 First HCMC acute diarrhea patient tests positive for cholera virus 
It is 15 days since the discovery of the first cases of acute diarrhea and cholera at a guest house in the suburban Thu Duc District.
The diseases have been rampant in northern Viet Nam but the city appears to have controlled their spread.
Water and food samples from roadside eateries and other high-risk places have also proved negative for the virulent vibrio cholera virus that has caused cholera in the north.
Dr. Nguyen Van Chau, head of the department, warned his staff not to relax their surveillance but keep a close watch on the two people, provide them drugs, and continue to disinfect areas around the guest house.
He also instructed medical workers to step up inspection of food and sanitation at sidewalk restaurants in all 24 districts. The cholera victim is suspected to have contracted the disease after eating food at a market stall.

Link:
HCMC Patient Tests Positive for Cholera