Ho Chi Minh City consumer price index (CPI) of April increased by 3.16 percent from March as reported on April 19 by the city Statistics Department.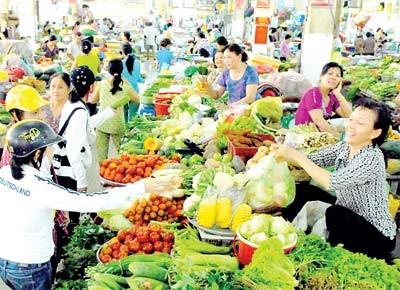 Shoppers at a market in Ho Chi Minh City (Photo: SGGP)
Most commodity groups of basic goods saw prices hike. The transport sector, restaurant services and the housing and construction material sector topped the list with a rise of over 4 percent compared to March.
 
Prices rose by 1 percent of garments, hats, footwear, household appliances, cultural entertainment and tourist services.
 
Food prices increased by 1.65 percent in March and continued to soar sharply by 6.19 percent in April, most in poultry, red meat, eggs, seafood and sugar.
 
According to the department, food prices will continue to rise until they establish a new price level. The cost of housing, construction material and transport has seen a new price level after hikes in power and fuel prices in early March.
 
Compared to December 2010 and a year ago, the April CPI increased by 8.2 percent and 13.99 percent respectively.
 
CPI of the first four months this year was double than at the same time last year.
 
CPI of each of the first four months this year rose on an average by 2 percent, while CPI of the same time last year rose by an average of 1 percent.