Mr. Le Hoang Quan, chairman of the People's Committee in Ho Chi Minh City, has decided to postpone collection of toll fee at the Saigon River Tunnel, which is considered the Southeast Asia most modern river tunnel, citing the ongoing economic downturn as reason.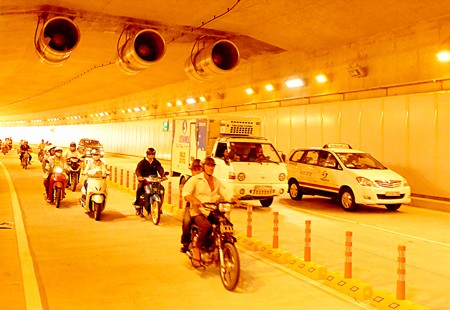 City authorities have postponed toll fee collection at the Saigon River Tunnel due to the ongoing economic crisis (Photo: SGGP)
The postponement of the toll fee is aimed at easing the economic difficulties faced by businesses and residents and to contain inflation.
Earlier, the management of Saigon River Tunnel had carried out a pilot collection of the toll fee from September 29 to October 29.
In related news, Ho Chi Minh City hosted a conference to gather opinions on the draft circular for toll collection and road maintenance fee on November 22.
At the conference, delegates said that the draft circular was flawed with several unreasonable clauses and regulations.
Dinh Nam Dinh, deputy chairman of the HCMC Cargo Transport Association, said that the draft circular stated that automobiles impounded for more than 30 days in traffic accidents will not be charged road maintenance fee--during the time they are off the road. However, if the period is less than 30 days, they will be charged as normal.
Mr. Dinh said that this clause was irrational and proposed no charge of fee on an impounded vehicle, irrespective of the number of days it is held--30 days or less.
Tran Viet Hoe, chairman of the Automobile Transport Association in Da Nang City, said that the percentage of the fund extracted for maintenance and repair of roads is very little and insufficient for improving the traffic infrastructure.
Truong Tri Minh, deputy chairman of the Cargo Transport Association in Hai Phong City, said the road maintenance fee should be embedded in the petrol price to ensure fairness for vehicles plying more or those plying less. According to the draft circular, a vehicle owner will have to pay the fee at the time of annual periodic registration.
Tran Ngoc Tho, director of Trung Viet Transport Company from Ba Ria-Vung Tau Province, said that the Ministry of Transport had said that they would remove all toll stations in the State when the road maintenance fee is implemented.
However, though the numbers of State toll stations are few, most of the toll stations are collecting a fee to recover capital spent by investors in BOT (Build-Operate-Transfer) projects. As a result, the road maintenance fee will overlap with the road toll fee.
Tran Ngoc Liem, deputy director of the Vietnam Chamber of Commerce and Industry in HCMC, said that they will synthesize opinions from delegates in a document and send it to the Ministry of Finance and the Government.
First and foremost, the chamber will propose to the Government to postpone implementation of the road maintenance fee, scheduled for early January next year, and instead include the fee in the price of petrol, and not on every vehicle.
Related article:
New road toll fee most impractical: Experts