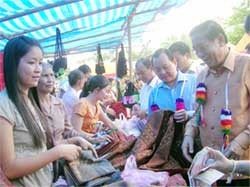 Mr, Choumaly Sayason (R) and Mr. Le Thanh Hai (2nd from R) visit the ethnic culture and handicraft exhibition.
A delegation from Ho Chi Minh City, headed by Municipal Party Committee Secretary Le Thanh Hai, visited Laos yesterday to take part in Bunpimay (New Year's) celebrations there.
Upon arrival, they were received by Mr. Choumaly Sayason, who is both the General Secretary of the Lao People's Revolutionary Party Central Committee and the President of Laos.
During their visit, the delegation met with local citizens of Lao and was introduced to many aspects of Lao culture including traditional dances, musical performances, and a carnival. They also attended a wristband ceremony, a traditional New Year's activity in Lao where friends and family tie threads around each other's wrists to wish them good luck, health and happiness in the upcoming year.
Earlier in the day, the group also visited an ethnic culture and handicraft exhibition at the Cultural House of Phacnom. They then joined thousands of locals in a gathering in front of the country's National Museum.
Previously, a delegation of many high-ranking officials from Ho Chi Minh City had visited the Embassy of Viet Nam in Laos and met with many Vietnamese living and studying in Laos. After hearing a report from Vietnamese Ambassador to Lao Nguyen Huy Quang, Mr. Le Thanh Hai instructed a representative of the HCMC Youth Union to speed up mobilization of funds to upgrade the facilities at Nguyen Du primary-secondary school. The 30-classroom school, located in Laos' capital city of Vientiane, provides education in Vietnamese to the children of overseas Vietnamese in Laos.
Today, the delegation will continue their visit and work with local authorities in the province of Champansac, where many projects funded by HCMC businesses are being developed.