To mark the 65th anniversary of the Vietnam People's Army, December 22, a delegation of Ho Chi Minh City government and Party officials visited soldiers December 13 at Dam Thuy border post in the northern province of Cao Bang.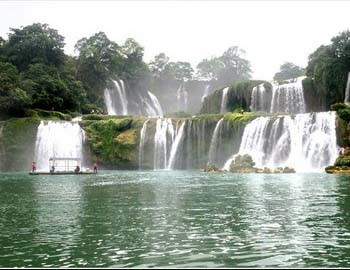 Ban Doc Waterfall in northern Cao Bang Province near Dam Thuy border post. A HCMC delegation visited officials at the border post on December 12 to mark the upcoming anniversary of the Vietnam People's Army.
Sixty members of the delegation and border post are recognized as exemplifying the campaign: "Learning and following Ho Chi Minh's moral example."
Commander Luan Ngoc Cau, head of the Dam Thuy border post, said that the campaign has given strength to officials and soldiers to complete their assignments and continue protecting the country's border.
In response, Nguyen Nhat Thu, deputy secretary of the HCMC people and government's Party Committee, said each day the city sees more examples of individuals following Ho Chi Minh's moral example. This has contributed to the city accomplishing several socioeconomic development goals in 2009, the deputy secretary added.
On behalf of the delegation, Mr. Thu gave the border post head and soldiers a portrait of the late President Ho Chi Minh, souvenirs, and VND10 million (US$540).
The Dam Thuy border post includes 60 officials and soldiers posted in Trung Khanh District's two communes, which share a 19.5 km border with China. The border area includes part of the famous Ban Doc Waterfall.
In 2009, the border post coordinated with authorized organizations to set up 60 new landmarks to ensure safety for 21,000 visitors to the waterfall. Of this number, 400 sightseers were foreigners.