Deputy Chairman of Ho Chi Minh City People's Committee Le Van Khoa said that city authorities have been attempting to prevent housing bubble at a meeting with the Department of Construct on February 8.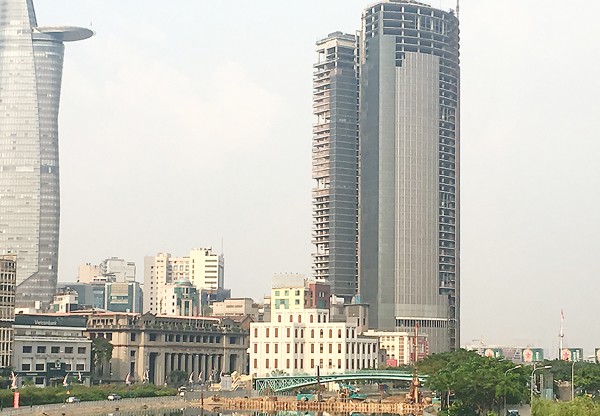 One of sluggish realty projects causes headache for authority to solve (Photo: SGGP)
Deputy Chairman Khoa stressed that as per the Party's resolution, the urban renewal will include residential block development and creating new quarters, re-building old buildings, and providing accommodation for those who are living along canals. 
Housing development will be controlled by urban market mechanism and the government. The government will closer monitor the real estate market  on the base of the regulation as well as facilitate property developer and call for social contribution with the aim to build new face for the city.
Mr. Khoa added the Department must manage not to occur bubble in the realty market. 
Realty bubble just occurs, Mr. Khoa said, when economy develop dramatically in a short time leading to increase on shares; a part of rich people pour money into realty. The second factor leading realty bubble as per Mr. Khoa is that policies on finance and credit is loose and investors can ask for loans easily who go into bankruptcy later leaving bad debt.

The final factor causing realty bubble is that the rate of secondary investors who purchase to resell, is 60 percent.
The Department and district administrations must manage the demand and supply balance to curb the possible bubble. Currently, the city has abundant deluxe condos while it lacks cheap apartments. The Department and related agencies must adjust this, said Mr. Khoa.
Construction Department Director Tran Trong Tuan said that its realty project research is complete which will be submitted to the municipal People's Committee soon. As per the Ho Chi Minh City Real Estate Association, some investors reported their concern of realty bubble in 2016.
As per its latest report of activities in 2016, the association said that the Department of Construction has verified the eligibility for 57 projects with 29,017 houses; 27,792 apartments and 1,225 other low-ceiling houses. Of which, there are 5,630 deluxe apartments; 16,750 average condos and 5,412 cheap apartments.
Moreover, there has been unbalance between demand and supply and increase in secondary investors. .
Additionally, Mr. Khoa ordered a careful selection of investors or people will suffer losses. Good investors must have good financial capability and performance.
Another matter needs to be take heed is traffic. Authority will put down the housing projects in residential block in alleys to prevent traffic congestion.
Last but not least, illegal construction is a headache especially in outlying districts Binh Chanh, Hoac Mon and Thu Duc. Mr. Khoa ordered construction department managers and administrators of the three districts have detailed plan to curb the matter.
The Department of Construction planned to carry out the city's urban renewal and development, for the period 2016-2020, focusing on major projects and projects carried out in the middle, building new apartments in the land of old condos and providing accommodation for 2,000 households living along canals.
Furthermore, the city will repair 10 old condos in the area of 116,778 meter square and give compensation for resettlement of five old condos. In addition, the city will start building six condos with 1,785 apartments to replace old ones. 27 projects of social houses with 20,650 apartments will be finished in the year.