The Ho Chi Minh City Party Committee will establish a steering committee on smart city development and consider this to be the mission and determination of the city Party Committee, government and citizens, said the city's Party Chief Dinh La Thang in Hanoi yesterday.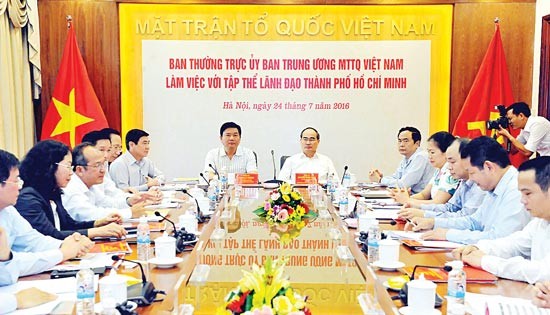 The standing committee of the Vietnam Fatherland Front works with HCMC leaders on smart city development on July 25 (Photo: SGGP)
Speaking at a meeting between HCMC leaders and the standing committee of the Vietnam Fatherland Front on smart city development and management, Mr. Thang said that a smart city aims to improve the life quality of citizens.
Chairman of the city People's Committee will be head of the management board of the steering committee, which will comprise an advisory board under regular operation, he added.
The secretary asked to build a comprehensive project on the smart city basing on the current reality of the city. The project needs to have a specific roadmap to suit the quick development of information technology (IT) and assign specific tasks for each agency.
In short term, the existing IT infrastructure should be integrated to avoid waste, for instance the city now has thousands of security and traffic cameras which should be connected together.
HCMC has implemented seven breakthrough missions to realize the resolutions of the 12th Party Congress and the 10th city Party Committee congress. Of these, smart city is an important duty to develop HCMC more vigorously.
The city should build a smart city if it wants to become a dynamic and modern city. Smart city development is an imperative demand which must be started now instead of waiting for eligibility.
The Vietnam Fatherland Front with the responsibility of supervision and social feedback paid lot of attention to development tendency in the next five years including smart city, said the front chairman Nguyen Thien Nhan.
With IT development, smart city promises to create a breakthrough for Vietnam, he said.
Smart city targets a more dynamic and effective economy, better living environment and reduction of environment pollution. Citizens will attend in supervising Government activities. HCMC is the country's big city and driving force for economic development so it should notice implementation of these purposes.
Mr. Nhan proposed the city's leaders to soon build a short term smart city development project of 2-3 years and long term targets in 10 years.
The project should be completed in the next 3-5 years with three groups of contents including building the city's common database and plan; developing smart services such as traffic, health and education; and intensifying the attendance of citizens and encourage them to give initiatives.
The common database will convey socioeconomic development policies of the city to businesses, citizens, managers and investors. Smart planning will soon spot congestions in the city's development to timely supplement solutions.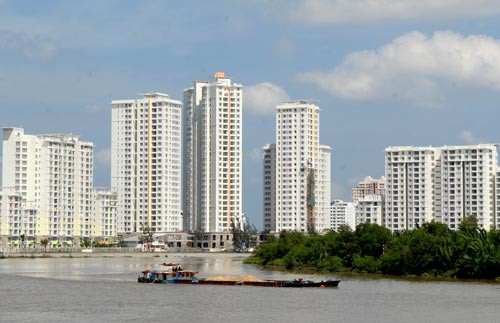 New apartment buildings in District 7, HCMC (Photo: SGGP)
The city People's Committee must be a steering body to carry out the project because smart city building needs a government system assisting information and communications in management.

Talking about measures to build a smart city, Mr. Nhan said that leaders should not let issues occur then handle but forecast and prevent them from occurring.
According to him, HCMC should develop smart systems of traffic management, parking lot and toll collection and environment management which will update air, water, waste and noise parameters daily, quarterly and yearly.
Industrial, household and medical waste treatment plans should be mapped out in five, 10 and 20 years. The list of polluting businesses and sanctions should be publicized continuously.
For the last years, leaders of the HCMC People Committee and agencies have showed their determination and conducted many measures to develop a smart city. For instance, they have worked to upgrade the bus management system into a smart traffic management center with more functions by 2018.