As per the latest report of People's Committee in Ho Chi Minh City about socioeconomic plan from the 2011-2015 period, the city's gross domestic product (GDP) soared by 9.6 percent a year, 1.66 times higher than the whole country.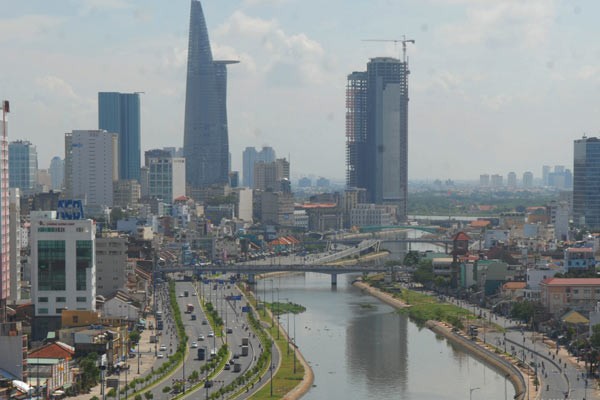 A corner of HCMC (Photo:SGGP)
Many sectors showed an increase. For instance, service sector has the highest growth rate at 11.12 percent yearly; industry and construction sector go up 7.5 percent; agriculture, forestry and fishery sectors gain by 5.8 percent a year.
GDP per capita is around US$5,538 a year, exceeding the city's target of US$4,800. VAT of service sector, of industry and construction sector and of agriculture, forestry and fishery sector are estimated to make up 59.8 percent; 39.3 percent and 1 percent in GDP in 2015 respectively.

The city has 1,921 schools with 1.5 million students. Studying and teaching quality is improved gradually. For 5 years, state budget for education sector has seen year-on-year increase of over 26 percent.
Recently, 9,000 classrooms have been built in 5 years and every year around 1,500 classrooms in state schools have been put into use. 163 schools have met the national standards and over 700 students have won national and international contests. More students have taken international English degree.
The city spent more on schools for gifted students by building 3 schools for teaching Math and science subjects in English.

HCMC is the first city that children under five all go to preschools and all children aged 6 to 10 go to primary schools. All schools have party union and the rate of member is 20 percent.

The rate of malnutrition children in the city decreased from 5.3 percent in 2010 to 4.2 percent in 2014. The proportion of beds in hospitals also increased to meet the demand. By June 2015, around 5.5 million people in the city have medical insurance cards, accounting for 69 percent of the whole city's population.

318 health clinics in districts in the city have doctors. The city has 25 medicine manufacturers; 1,033 distributors have achieved Good Distribution Practice and 5,404 drug retailers with Good Participatory Practice.

In 5 past years, the city built the Quang Trung Software Park in district 12 where admits 10,000 students to study and make researches yearly; 6.371 IT experts and engineers and over 1,000 employees are working at many facilities. Total investment of organizations and individuals for the park is VND8,500 billion (US$ 379,667,679).

The 145 hectare agriculture park growing safe vegetables as per VietGAP has attracted 14 projects totaling VND190 billion (US$ 8,486,689). As per vision towards 2020, the park will be expanded more 400 hectare to planting vegetables, feeding animal and fishes.

While the IT park in the city has attracted 77 projects worth US$4.4 billion. Last year, its turnover reached US$3.25 billion. The park has called for the world biggest corporations such as Intel, Nidec, Sonion, Sanofi and Samsung.