Major vegetable retailers in Ho Chi Minh City are tying up with growers in Lam Dong Province to ensure a steady supply.Supermarket chains Saigon Co-op, Big C, and Metro have signed long-term deals with cooperatives and individuals in the mountainous province to buy vegetables.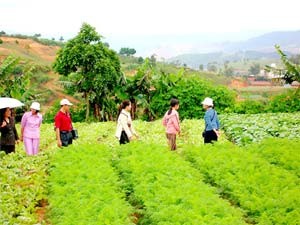 Representatives of HCMC-based retailers visit a vegetable farm in Da Lat, Lam Dong Province. Several city retailers have tied up with farms in the province to ensure a steady supply of vegetables. (Photo: SGGP)
They will also provide financial support to them and help them adopt Good Agricultural Practices (GAP) to improve productivity and quality.
Everyday the city consumes around 4,000 tons of vegetables, of which more than half comes from providers in Lam Dong, according to the city's Department of Industry and Trade.
Bui Hanh Thu, deputy general director of Saigon Co-op., said her company regularly tested for pesticide residues in farm produce from Lam Dong, adding that if it does find residues, it would terminate the contract with the farm and seek compensation.
Lam Dong is well-known for vegetable growing areas like Da Lat and Duc Trong and Don Duong Districts, which supply 1.1 million tons a year, including 150,000-200,000 tons to export markets. 
Recently the province coordinated with the Danish International Development Assistance Agency to grant HACCP (Hazard Analysis and Critical Control Points), Global GAP, and Viet GAP certificates to six local vegetable growers.