A group of Ho Chi Minh City doctors yesterday received a sendoff as they left for rural areas in the southern region to train medical personnel based there.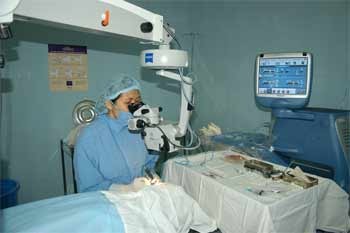 Eye operation is one of key medical procedures city doctors to transfer to their country cousins(Photo:D.Thuy)
The 166 doctors left as part of a Ministry of Health initiative to reduce rural people's dependence on cities for health care and ease the pressure on city hospitals.
They will be based in small commune clinics for the next month or so, training their counterparts in 15 key medical procedures and treating patients.
The shortage of capable doctors, especially in mountainous and remote areas, has become severe though there is increasing demand.
On the other hand, out of 35 million patients Ho Chi Minh City hospitals treated last year, 875,000, or 40 percent, were from the countryside.
Related article:

Medical Staff Take Turns to Serve in Commune Hospitals: Health Minister