District 1 in Ho Chi Minh City has launched a pilot project to organize small catering business along some roadsides and pavements for disadvantageous households, announced deputy chairwoman of the district People's Committee Nguyen Thi Thu Huong yesterday.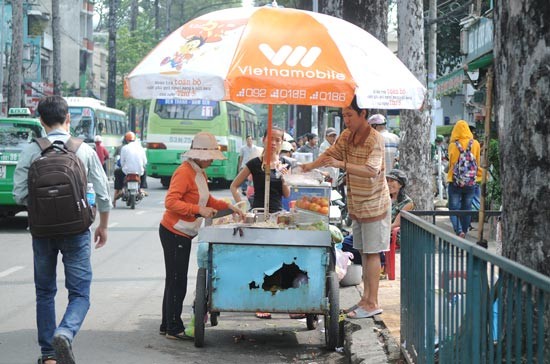 A street vendor in district 5 (Illustrative photo: SGGP)
Areas where households are allowed to do catering business include Nguyen Van Chiem Street and Bach Dang Wharf Park. 
The program aims to gradually and basically restore order on streets in the district and arrange places for vendors and other disadvantageous households who have encroached pavements and roadsides to do their business. 
The pilot program will permit them to provide service from 6-8a.m. and 11-1p.m. 
Households in these areas will be exempt from tax obligations. District 1 Public Service Company Ltd will assist them with water supply, drainage, rubbish bins and public toilets. The Health Department in the district will provide them with training courses on food safety and hygiene.                                                                                              
After one month of implementation, the district will reconsider the project and expand the model in other wards.