Volunteers of the Earth Hour campaign yesterday dredged rubbish from inner-city canal Nhieu Loc- Thi Nghe.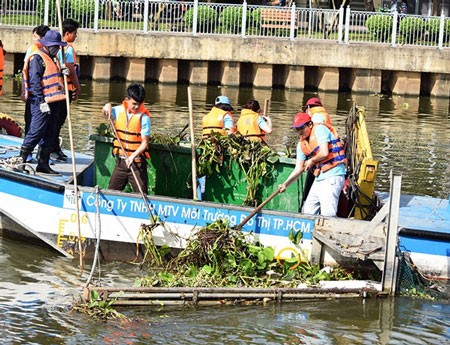 (Illustrative photo: SGGP)
It is one of activities of the project " Diem den xanh" ( Green destinations) in response to Earth Hour event which will take place in Ho Chi Minh City on March 25.

Deputy director of the transport company No.3 Duong Chi Thanh said that to keep the canal clean and beautiful, dredging will be carried out once a day; moreover, young people in districts Tan Binh, Phu Nhuan, Binh Thanh will clean canal bank and collect rubbish in the bridge across the canal.

Other projects and activities, such as collecting scraps, empty plastic bottle for the project " Green Community", clean the vocational training center for disabled people and orphans in District Hoc Mon, among others, have been registered to echo with the global Earth Hour event

The Earth Hour was launched in Sydney in 2007, with the aim of raising people's awareness about consequences of climate change. The annual event's highlight encourages everyone to switch off unnecessary lights and gadgets for one hour starting 8:30 pm on the last Saturday of March.
The campaign has attracted over 162 nations to join in.