Ho Chi Minh City People's Committee Chairman Le Hoang Quan on November 26 said that the city's economy has recovered and grown stably for the last 11 months with growth rates by quarter on quarter.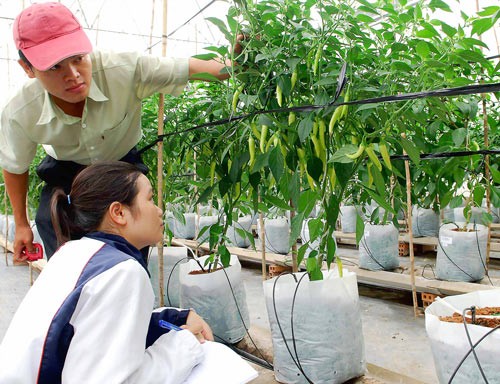 Farming of high productivity plants at the HCMC Agricultural Hi-tech Park (Photo: SGGP)
The city's gross domestic product (GDP) growth is expected to reach 9.8 percent this year and economic growth will be 1.5 time higher than the country's rate.
Industrial production index is forecast at 7.7 percent, higher than 6.7 percent last year. 2015 budget revenue is estimated to exceed plan to hit VND267 trillion (US$11.87 billion) or near VND270 trillion including collected amounts of tax arrears, Mr. Quan said.
Director of the Department of Planning and Investment Su Ngoc Anh said for the last 11 months four key industries namely manufacturing mechanics, electronics, chemical-rubber-plastics, food and foodstuff processing posted a growth rate of 8.1 percent over the same period last year.
Trade, retail and service showed high growth rate. Industry and agriculture grew stably.
Director of the Department of Finance Phan Thi Thang, said that the city's budget revenue approximated VND247 trillion (US$10.98 billion) increasing 5.6 percent and getting 93 percent this year's target.
Of these, domestic revenues was up 14 percent, crude oil dropped 28 percent and export import up 4.8 percent.
Acting director of the HCMC Development Study Institute Tran Anh Tuan said that with the 11 month growth momentum of many production industries, the city's GDP growth rate of 9.8 percent is reachable.
However he concerned over the competitiveness of small and medium enterprises and proposed authorized agencies to have assistance policies to supply them with information to well prepare for Trans-Pacific Partnership's joining, as well as to stimulate purchasing power and boost key industries' growth.
Mr. Le Xuan Duong, deputy head of the Taxation Department, said that local tax revenue is estimated to increase 6-7 percent over the same period last year. The department will step up collecting tax arrears totaling VND10,623 billion (US$472.30 million) so far, of these VND5.5 trillion will be claimed with coercive measures.
According to reports at the meeting, the real estate market has returned to its real value and speculation has not been as complex as before. Inventory level has significantly reduced.
So far investors have sold 2,400 apartments accounting for 16.5 percent of total supply. The city will continue reviewing projects that have been licensed but yet to implement or has been resold, tightening projects in center areas to prevent speculation and price rigging from occurring.
Deputy director of the Department of Industry and Trade Le Ngoc Dao said that goods supply will increase 15 percent in the coming Tet holidays compared to the same period last year.
The department has worked with the State Bank of Vietnam in HCMC to provide businesses with VND45 trillion (US$2 billion) of loans to prepare Tet goods with lower than normal interest rates.
Businesses have already prepared Tet commodities worth VND16.2 trillion (US$720.25 million). Three large wholesale markets controlling 60 percent market demand are rushing to stockpile goods for the busiest trading season annually.
About 18,000 tons of confectionary has been produced for the holidays. Many promotional programs will be launched near Tet to reduce prices of the most consumed items such as pork, poultry and eggs.
The city has over 3,000 outlets selling subsidized goods. Local authorities will open another 250 spots from now until the lunar new year which falls in February.