Though opinions vary on the impacts of Viet Nam's WTO commitments on its economy, most agree WTO accession has benefited Ho Chi Minh City for the most part.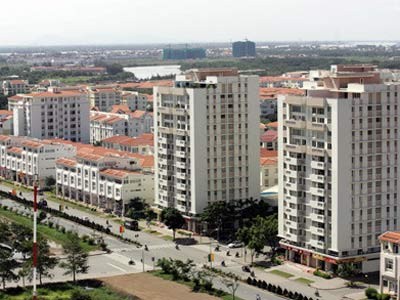 An overview of the E-Town Campus, a hi-tech center located in Ho Chi Minh City (Photo: BW)
After the nation's first year of accession, the city's foreign direct investment (FDI) and exports have seen record growth making the southern economic hub the nation's leader in these fields.
FDI in HCMC rebounded to some US$3 billion in 2007 with over 400 projects, representing an annual surge of 28.6 percent after years of sharp declines. FDI from overseas Vietnamese increased eight-fold over 2006.
Figures have shown the former "Pearl of the Orient" remained the nation's most attractive destination for foreign investors over 2007.
Investment quality also improved as investors shifted from labor-intensive to capital-intensive, hi-tech and real estate projects.
Municipal gross domestic product (GDP) growth registered a record 12.6 percent in last year alone while the set target for city GDP growth over 2006-2010 was only 12 percent
HCMC's annual per-capita income reached US$2,100 in 2007 and is expected to hit US$3,000 by 2010.
The city's five-year poverty-alleviation program fulfilled its goal two years ahead of schedule by bringing the number of families living under the VND6-million per year poverty line down to 1.9 percent.
Exports revenues in 2007 reached US$18.3 billion. Foreign arrivals hit 3 million, an annual increase of 14.6 percent over 2006, accounting for 70 percent of the national arrivals.

Total investment in 2007 was up 24.2 percent over 2006 at VND84.5 trillion (US$5.20 billion), partly thanks to the establishment of more than 18,500 new enterprises with a combined chartered capital of VND160 trillion.
The city's 2007 budget incomes were at its highest ever - VND92 trillion, up 30.4 percent from 2006.
Cargo handling through HCMC ports reached 50.5 million tons, further movement towards the city's future as a regional and continental port by 2020.
In 2007, the municipal economy was 2.5 times it size in 2001, making the city's plans for a three-fold increase by 2010 appear virtually assured.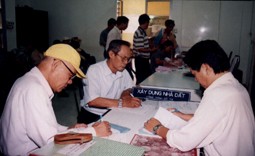 Local residents fill in application forms for construction licenses at a district People's Committee in Ho Chi Minh City. Experts say the city should make a breakthrough in administrative reforms after Viet Nam's WTO accession.
HCMC People's Committee Deputy Chairperson Nguyen Thi Hong attributed such achievements to the city's determination to cash in on opportunities and overcome the difficulties of its first year under WTO membership.
But difficulties and challenges remain. The city's infrastructure hasn't apparently kept up with development and investors' demands.
Local enterprises are not fully integrated into global economy and have yet to take full advantage of WTO membership to expand their export markets.
However, HCMC is also criticized for its worsening pollution, inflation, traffic accidents, vice, crimes and bureaucratic costs.
And a race between local and foreign enterprises is to begin January 1, 2009, when the country fully opens its market to the trade and goods from its WTO partners.
Some say the city should concentrate on speeding up traffic infrastructure projects and the disbursement of licensed projects.
They recommend a breakthrough in administrative reforms to end the several years it currently takes for projects to reach their implementation phases.