The first four months of 2012 have been extremely difficult for Vietnam's economy in general and Ho Chi Minh City in particular.
It is estimated that nearly 8,300 enterprises have shut shop in the first four months of the year. Amongst them, the numbers of retail businesses going bankrupt were the highest, amounting to more than 5,000. Many businesses operated with 90 per cent capital coming from bank credits so that they could not afford to pay the interest rates.

These businesses failed to pay the interest rates or clear dues and declared bankruptcy, with the economic recession being the main cause of their plight.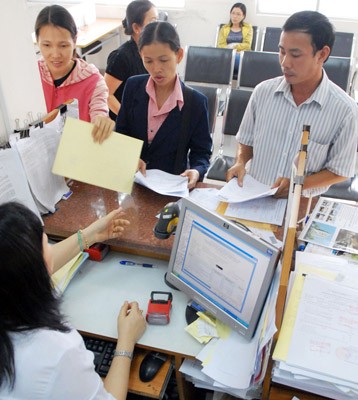 Businesses pay taxes at the Tax Department in HCMC (Photo: SGGP)
One real estate businessman in Thu Duc District told reporters that he had to suspend operations because of high bank interest rates, which were as high as 20-22 per cent per year.
He could not sell any apartments and now is gradually eating from his capital.
Economic difficulties also affected the commercial banks, as income from services declined sharply compared to last year.
The profit rates of many Vietnamese commercial banks mostly depends on lending activities, which suffered a negative credit growth rate of 0.66 per cent in the first four months of this year.
Negative credit growth is posing a huge challenge to Vietnam's current credit-driven growth model.
In the current market conditions, the continued pressure of the central bank on deposit rate ceilings can be seen as the main cause in helping commercial banks to maintain marginal profit rates.
Most banks have seen revenues decline as many customers tend to restrict the use of commercial bank services in order to cut their input costs.
The city's Department of Finance estimated that if the banks seize assets to reimburse debts, the total number of businesses going bankrupt would be far higher. The reason was that the value of real estate was going down and even if the banks confiscated land or houses of debtors, it would be no use as the entire capital amount could not be retrieved!
Almost 90 per cent businesses in Vietnam are either small or medium-sized. These SMEs suffer the most in an economic recession.
In terms of revenue and business performance, SMEs cannot compete with other big enterprises, due to financial shortage, high land rentals, difficulty in accessing loans from banks, etc.
Tran Thuy L., director of a plastic company, said that in the first four months in 2012, production reduced constantly, consumer power decreased, and the numbers of goods in store accumulated day by day!
Nguyen Trong Hanh , vice director of the Tax Department in HCMC, revealed that in the first four months of 2012, more than 8,000 businesses informed the Tax authorities of preparations for ceasing operations and declaring bankruptcy.
If the individual households are also taken into account, the numbers reach more than 38,000, he added. During recent meetings with customers, he realised their spirits were low. "They told me they could not see the light at the end of a tunnel", said Hanh.
Similarly, the Vietnam Association of Processing and Exporting Sea Products unveiled a survey in the first quarter of 2012, in which 30 per cent businesses faced threat of suspending operations.
Statistics from Customs Offices showed that the number of export businesses decreased from 800 to 500 in the first quarter of 2012. Figures from Statistics Offices also show that goods stockpiles have increased by 32 per cent over the same period last year.
Experts raised the question as to how businesses can overcome difficulties in 2012…
The Government has allowed businesses to make their VAT declarations at the end of the second quarter of the year and not pay immediately.
The Gov't has also reduced land rental payments and waived this year's license tax for fishery and salt-making households. The move is aimed at helping struggling firms and households overcome financial difficulties.
Recently the Ministry of Finance unveiled an assistance package worth VND29 trillion ($1.39 billion) to support local firms to overcome their financial difficulties.
However, experts believe that businesses can withstand the difficult times. One solution is that the banks apply a cap on lending rates for four prioritised sectors at 15 per cent per annum; including agriculture, exports, small and medium enterprises (SMEs); and support industries and step up efforts to boost slow growth.
Another solution for coping with financial pressure is for several trading companies to settle problems by resolving wages, unemployment benefits, insurance for employees, by paying in kind and not cash, such as products or devices in supermarkets.
Nguyen Thi Hong, vice chairwoman of the People's Committee of HCMC, recommended the Government step up clearing of bad debts. At present the amount of bad debts in commercial banks has reached nearly VND37 trillion.
In any case, due to financial shortage, the trading companies have to re-organise and find ways to enhance competition.
"The grass root solution is that policies concerning factors such as access to bank loans, stockpiling, and profits should be changed to macro-economic management level to support businesses", Ms. Hong said.