The People's Committee of Ho Chi Minh City plans to motivate and encourage city residents to commute by bus, striving to increase the numbers of bus passengers from 7 to 12 percent by 2015.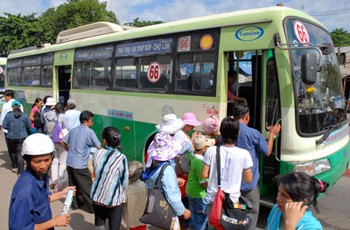 Many city residents travel by bus daily, in Ho Chi Minh City. (Photo: SGGP)
The city will split the action plan into two phases. During the first phase, from July 1 to December 1, it will focus on motivating party members, officials, civil servants and students to travel by bus within the city.
In the second phase, from December 2 of this year till December 2 of 2015, the campaign will cover all strata of people within the city.
The people's committee has asked the Department of Transport to work with relevant departments to improve the quality of bus service and maintain efficient and clean bus stations.