The environmental police agency (C36) and Department of Animal Health October 14 found massive quantities of animal remains at two processing plants in Ho Chi Minh City's Binh Chanh District that claimed to make fertilizers and animal feed.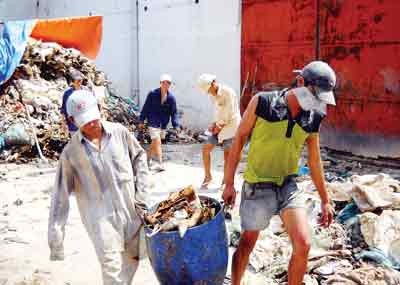 Employees at Thien Phu workshop carry animal bones used to make powder to allegedly supply animal feed makers (Photo: SGGP)
At the 5,000-square-meter Thien Phu workshop officials found some workers without face masks or protective clothes dispersing poultry feathers on large canvas sheets and arranging animal bones in containers to dry in the sun. 
Inside, heaps of bones were piled up high, giving off a nauseating stench and covered in flies, maggots, and other insects.
The owner did not have receipts or certificates of hygiene and safety for the 500 tons of decomposed bones, and 4.5 tons of bone powder.
The scene was similar at Pham Van Hao workshop.
The police said they found 200 tons of bones, 70 bags of toxic wastes, and around 20 tons of unprocessed animal skins.
Pham Van Lam, director of Thien Phu Commercial and Trading Company, said his company dries animal bones bought from restaurants and pho (rice noodle soup with beef), grinds them, and supplies 10-30 tons of the powder monthly to distributors in the city.
He admitted he did not know if the distributors use it for animal feed, and could only produce a business registration certificate for making animal feed.
The owner of Pham Van Hao told the officials that his unit uses the bones and feathers to make fertilizers, claiming the protein content in such fertilizers is very high.
The company has been in business since 2003.
The employees at the two units told Sai Gon Giai Phong that they have to endure the stench and risk their health to earn a livelihood.