The Ho Chi Minh City Expo 2011 opened in Phnom Penh in Cambodia last night, organized by the HCMC Investment and Trade Promotion Center.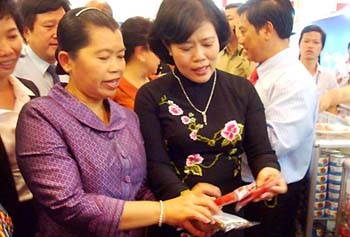 HCMC vice chairwoman Nguyen Thi Hong (R) introduces Vietnamese products to Cambodian Deputy Prime Minister Men Sam at the HCMC Expo 2011 on April 6 in Phnom Penh (Photo: SGGP)
Addressing the opening ceremony, deputy chairperson of HCMC People's Committee Nguyen Thi Hong said that the expo was one of the key trade promotional programs of her city in Cambodia during the phase 2010-2015.
The promotional programs aim to broaden the market share base for Vietnamese goods, develop a distribution network, increase skill in production and develop trade by introducing brand names in Cambodia.
According to Ms. Hong, this is also a good opportunity for both countries to develop business cooperation with each other.
Under the theme "Vietnamese goods: more choice, more confidence," the HCMC Expo 2011 has 200 Vietnamese companies displaying their goods in more than 300 stalls.
Most well known Vietnamese brands are on display at the fair from processed food, household plastic goods, interior decoration, garments and textiles, shoes, chemical and cosmetic items, electric products and construction materials.
Together with displaying goods, the fair's organization board has also designed a common hall to exhibit photos showing economic, social, political and cultural achievements of HCMC. Images of the solidarity and friendship between Vietnam and Cambodia are on exhibit here.
In related news, Duong Thi Ngoc Dung, deputy general director of Vietnam's Textile and Garment Group said that, Vietnam's exports of protective clothing to Japan has skyrocketed after the recent earthquake and tsunami there. Export of suits, shirts, jackets and snow clothing to Japan remains stable.
Japan is the third largest market for Vietnam's garment and textile exports, accounting to 10 percent of the total export market share. In 2010, the turnover grew by 20 percent to reach US$1.2 billion.