HCMC Finance and Investment State-Owned Company (HFIC) has played the role of mobilizing resources, developing infrastructures and paving the way for welfare programs, said deputy chairman of the city People's Committee Tran Vinh Tuyen on Thursday.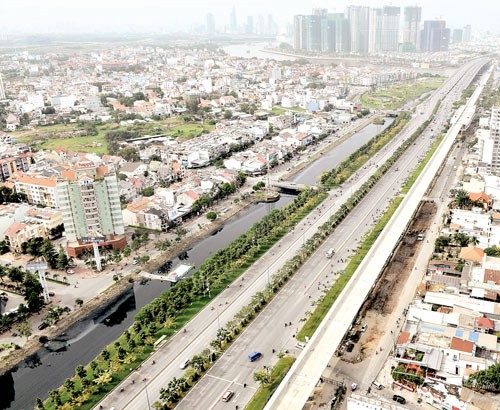 Hanoi Highway expansion is a HFIC financed project (Photo: SGGP)
He was speaking at a conference to review the four year pilot implementation of state capital ownership representative function and operation directions in the upcoming phase of HFIC.
 
According to Mr. Tuyen, HFIC has obtained targets of the pilot the project by well carrying out rights, duties and responsibilities of a state capital ownership representative.
 
He said the city hoped that the company will continue keeping the momentum and proposed the government to approve the full transfer of state own enterprises under the city People's Committee to HFIC because the firm has not only implemented management duty and brought capital use effectiveness but also mobilized foreign investment, contributing to the success of the city's seven breakthrough programs.
 
Reporting at the event, director general of the company Pham Phu Quoc said that HCMC Finance and Investment State-Owned Company had received eight state own enterprises and equitized six on schedule. The company's value has increased 2.5 times initial chartered capital and equitization revenue reached VND1,240 billion (US$54.39 million).
 
At present, the company has two remaining members including HCMC Lottery Company which is not subject to equitization and another Housing Management and Trading Company that will be equitized this year.
 
HFIC's operation effectiveness is seen through revenue growth of 72 percent a year to total VND38,131 billion ($1.67 billion) so far. Profit grows 42 percent a year to hit VND8,867 billion and budget contribution is VND12,071 billion growing 104 percent.
 
HFIC is considered to be the strategic financial institution of the city and the imitating investor using reciprocal capital to mobilize resources and attract investment to HCMC infrastructures. In the phase of 2010-2016, the company had provided financial assistances to 152 infrastructure projects with the total funds of VND25 trillion ($1.1 billion).
 
Dr. Tran Du Lich said that besides profitable investment activities like State Capital Investment Corporation (SCIC), HFIC has to perform other welfare missions and invest in fields which private sector does not attend. For instance, capital investment in the Saigon Hi-Tech Park has not only brought economic results but also contributed to social development.
 
He appreciated results got by HFIC and proposed to officially launch the model in HCMC and supply the company more financial tools to mobilize capital.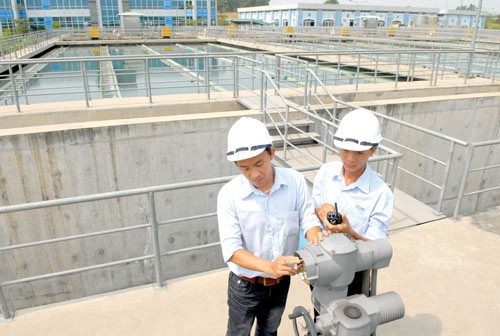 Thu Duc water plant is another HFIC financed project in HCMC (Photo: SGGP)
Deputy Minister of Planning and Investment Dang Huy Dong said the ministry is now consulting for the Government about state own capital representative organs comprising HFIC, which the ministry found a good model and should be officially launched.
 
Mr. Nguyen Trong Dung, deputy head of the Central Committee for State Own Enterprise Reform, estimated that HFIC has made initially great contributions. The model has been piloted in Hanoi and HCMC but only successful in HCMC. Still he expected clear investment capital, mobilized funds and loans at the company in the upcoming time.
 
Permanent deputy secretary of the HCMC Party Committee Tat Thanh Cang says that the most important function of HFIC is to mobilize social capital to develop necessary infrastructure works in the city. This is a model efficiently using state capital. Therefore, he claimed that the major problem is not that HFIC or SCIC keeps state capital but how the city keeps and develops this source of fund and how management, instruction and consultancy are to use the resource right and efficiently to create impulse for social development.