Following instructions from Ho Chi Minh City authorities, food companies are scrambling to ensure there is adequate supply and prices are stable during Tet which falls in February next year.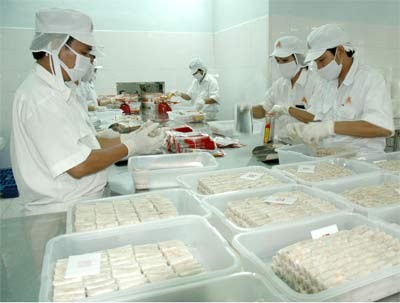 Workers at Vissan factory make spring rolls for Tet. HCMC-based food suppliers assure there will be adequate supply of foodstuffs and no price hikes during Tet in February 2010 (Photo: SGGP)
The city People's Committee earmarked over VND422 billion (US$22.8 million) which it began lending interest-free to these companies in early October.

Many of the companies have stockpiled goods for distribution during Tet.

Pham Van Minh, director of Phu An Sinh Company, said 400 tons of pork and 750 tons of chicken, including 250 tons of free-range chicken, are ready for distribution, 25 percent more than last year.

This year chicken and pork prices will be 10 percent cheaper than last year, he said, with backyard chicken to be sold at VND90,000 a kilogram and free-range chicken at VND44,000. Pork is expected to be sold at VND45,000.

Supermarket chain Saigon Co.op, which got a loan of VND100 billion from the city, has coordinated with producers and distributors to ensure it will get enough supply and asked them not to increase the prices of essential goods like rice, meat, cooking oil, vegetables, and fruits.

Saigon Co.op also makes 100 items under its own "Co.opMart" brand name, including sweets, cosmetics, processed foods, and seafood. They are 5-40 percent cheaper than others on the market.

Phan Van Thien, deputy general director of confectioner Bibica Corporation, said Tet would provide local sweet brands an opportunity to compete with imports thanks to the expensive US dollar. Local brands are already 20-30 percent cheaper than imports.

Bibica hopes to sell 4,500 tons of various sweets this lunar New Year, 20 percent higher than last year, he said.

Bibica plans to add 30 new products to its existing portfolio of 150, he revealed.

Though the prices of sugar, milk, and flour have surged recently, with sugar prices rising by 300 percent, his company has not been affected since it had stocked these materials well in advance, he added.

The Industry and Trade Ministry has allayed people's fears of an increase in rice prices due to current high global prices, typhoons in the central region, and drought in the northern region, saying the country has large stocks.