Ho Chi Minh City has made more efforts to tackle rampant flooding after heavy rains and high tides, however implemented measures have solved the top not the root of the issue because of fund shortage.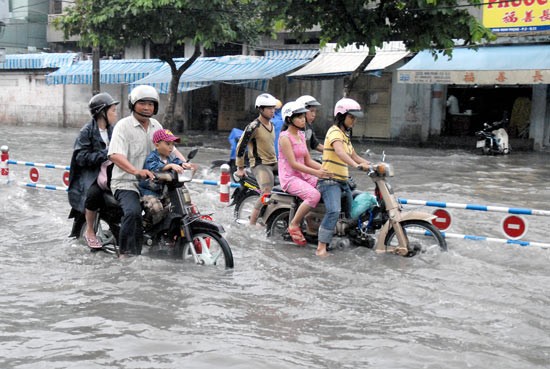 Many streets have regularly been flooded after heavy rains in HCMC (Photo: SGGP)
The statement was made by deputy chairman of the city People's Committee Nguyen Huu Tin at a meeting of the city Economics and Budget Committee under the People's Council on anti-flooding progress on Tuesday.

A representative of the Steering Center for Urban Flood Control Program reported that the city has set targets to clear inundation over 106.4 square kilometer center area with about 3.3 million residents, reduce flooding in north Tau Hu and Tan Hoa-Lo Gom canals including districts 6, 11, Tan Phu and Binh Tan and parts of districts 6, 8 and Binh Thanh.
The rest area stretching 457 square kilometers with 3.4 million people must reduce 70 percent of rain-triggered flooded spots and 50 percent submerged spots due to high tides, and prevent flooding from occurring in new places, according to the targets.

To obtain these issues, the city must build 6,000 kilometers of sewer types over 581 square kilometers but has been able to complete over 43 percent of that. Installation of the 3,400 remaining kilometers has yet to be implemented putting many areas in danger of re-flooding.
Deputy Head of the Economics and Budget Committee Nguyen Van Lam said that not only sewer works but also reservoirs have been constructed very slowly, such as Khanh Hoi reservoir in District 4, Bau Cat in Tan Binh and Go Dua in Thu Duc.
In addition, climate change has worsened flooding in recent years while tide-control dykes have yet to be built.
Explaining reasons for the late construction of sewers and reservoirs, deputy chairman Nguyen Huu Tin said that state budget shortage has not permitted the city to implement drastic measures to absolutely tackle the issue.
Many parts of HCMC are located at an average elevation of one meter above the sea level. The city is also surrounded by three large rivers Dong Nai, Sai Gon and Vam Co Dong.
Therefore, when a rain of about 140mm precipitation happens at the same time of high tide, two thirds of the city will be submerged. Such rains just occurred once every 2-3 years previously but four times a year now during longer time, from 30-60 minutes.
Thousands of billion of dong have been spent on dredging canals but residents have kept littering. Some canals have been choked with garbage again within a few months after being dredged.
The Prime Minister has allowed the city to build nine big sewers and 68 smaller ones to prevent high tides and some important dyke sections in crowded areas. However, these works need about few billion U.S. dollar which the city has been unaffordable for.
The Government has permitted local authorities to seek loans from official development assistance or the World Bank but it has not been an easy measure.