At the meeting, MIT Sloan principle David Schmittlein and professors introduced to Mr. Nguyen Thien Nhan and members of the delegation about MIT's research and training programs on startup ecosystem, startup spirit impulse and requirements to a startup business-- the MIT Regional Entrepreneurship Acceleration Program (REAP).
Mr. Nhan hoped that MIT Sloan School would continue contacting HCMC to talk about specific and suitable cooperation projects, believing that the school would give the city advice on science-technology development and innovative startup programs.
Right after the visit to the school, the delegation attended a seminar with Harvard Kennedy University.
Opening the event with a speech about challenges in urban development in the 21st century with the focus on HCMC, professor David Dapice from the university forecast that by 2050, 66 percent of the world's population will live in urban areas and services will be the major job providing source for these areas.
HCMC has seen a great stride in the ratio of people working in service sectors. From 2011-2017, it rocketed from 37.5 percent to 60 percent of total labor force.
However, Vietnam has just posted moderate rates, from 31.4 percent to 34 percent. That once again emphasized the importance of big cities in high class service development and attraction.
Professor David Dapice commented that successful cities mainly grow with high added value services, which require them to lure talents. The positive factor to boost the high value services is a good governance including education and healthcare, an effective city with good environment and traffic; little red tape and good financial system.
In addition, governance factors need financial resources with solutions including more efficient spending, higher tax retention rate and smart borrowing with public private partnership (PPP) model.
After following speeches by Dr. Nguyen Xuan Thanh from Fulbright Vietnam University and Havard Kennedy University about channels to mobilize financial resources from local taxes, bonds, property tax, fees and infrastructure investment; delegates at the seminar further discussed and analyzed these contents.
This morning December 12, the HCMC high level delegation continued participating in the seminar with Harvard Kennedy University and listen to SHOP Technology Company's presentation on the overall plan of Fulbright Vietnam University.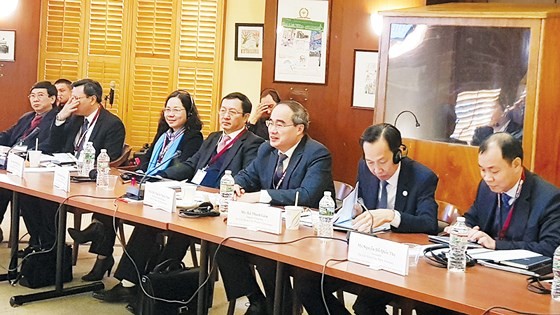 The HCMC high level delegation attends a seminar with Harvard Kennedy University in the US on December 13 (Photo: SGGP)