A high level deputation from HCMC led by secretary of the city Party Committee Dinh La Thang yesterday started a ten day working visit to Japan to boost the good diplomatic relationship as well as trade and investment cooperation between HCMC and Japan.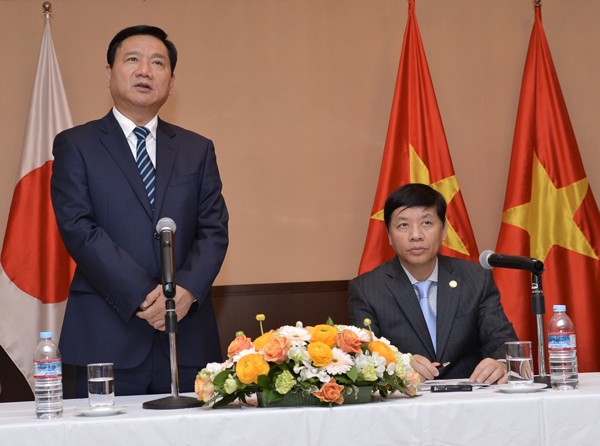 Secretary of the HCMC Party Committee Dinh La Thang states while visiting the Vietnamese Embassy in Japan on April 6 (Photo: SGGP)

Opening the visit, from April 6-15, the deputation including deputy chairman of the city People's Committee Le Thanh Liem visited the Vietnamese Embassy in Tokyo last night.

Mr. Thang informed the embassy of the city's socioeconomic development situation and investment attracting demand, saying investment potential between HCMC and Japanese localities very large as the two sides have cooperated with mutual trust and strengths able to supplement each other to develop.

HCMC leaders always create every possible conditions for Japanese businesses to invest in the city especially in its seven breakthrough programs.

During the visit, the delegation will meet and talk to some Japanese ministries, agencies, economic organizations and enterprises to boost the cooperation between HCMC and Japanese provinces and cities.
In addition, the delegation will conduct a slew of trade, investment and tourism promotion activities in five provinces and cities comprising Osaka, Tokyo, Hyogo, Aichi, Nagano.

Of these, trade, investment and tourism promotion conferences in Osaka and Hyogo will be held to introduce HCMC's outstanding projects calling for investment together with the city's advantageous context and potentials for investment and tourism development.

The two conferences will assist Vietnamese and Japanese enterprises seek partners through trade connectivity operations, conduct market surveys and visit industrial and agriculture areas and hi-tech projects.
Receiving the delegation, Vietnamese Ambassador to Japan Nguyen Quoc Cuong said that the number of Vietnamese students in Japan now approximates 60,000 while apprentices and workers reach 100,000. The numbers are forecast to continue increasing because of large cooperation demand in human resources and training of the two countries.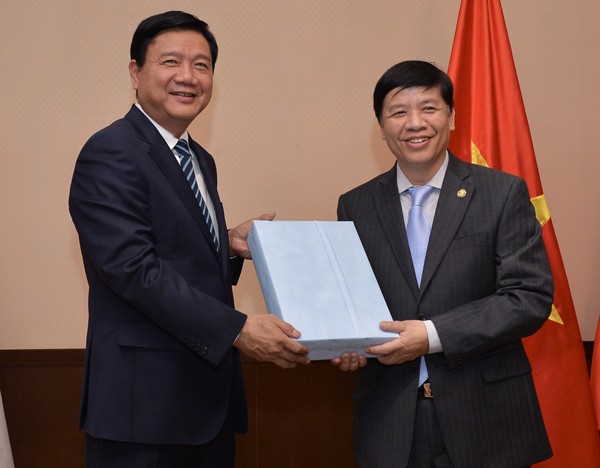 Mr. Thang gives Vietnamese Ambassador to Japan Nguyen Quoc Cuong a souvenir (Photo: SGGP)
Japanese investors have appreciated the human resource of Vietnam and HCMC for their ability, studiousness and youthfulness, added Mr. Cuong.

Mr. Thang reported that HCMC obtained all set targets last year. Since the first quarter 2017, the city has got many positive socioeconomic results with economic growth hitting 7.46 percent. Budget revenues approximates VND85 trillion (US$3.74 billion) making the daily revenue target of VND1 trillion ($44 million) obtainable.
Still, the city has met with many difficulties and challenges concerning traffic, infrastructures, environment, food safety and hygiene and public order.

Hence, HCMC have called on foreign investors especially Japanese to enhance investment and cooperation in these fields.

The city expected that Japan's investment will further strengthen in the upcoming time. Japan was ranked the sixth largest investor of HCMC last year and increased to the fourth in the first quarter this year.
Mr. Thang hopes that the Vietnamese Embassy in Japan will speed up assisting HCMC in promotion activities and attracting Japanese investors to HCMC.