Chairman of the Ho Chi Minh City People's Committee Nguyen Thanh Phong has approved of the city Urban Railway Management Board's hiring foreign consultants for metro line projects, announced the board yesterday afternoon.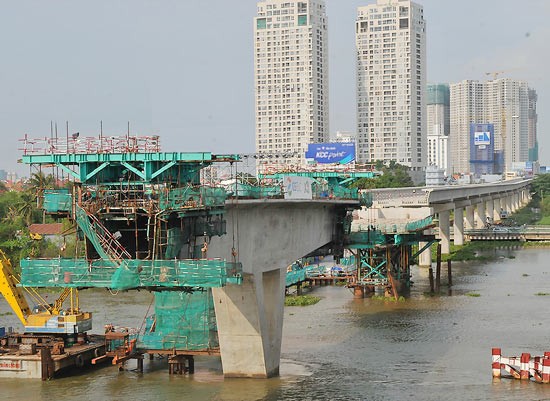 The first metro route is under construction in HCMC (Photo: SGGP)
The board is responsible for coordinating with relevant agencies to choose eligible and qualified consultants, the committee asked.
In addition, the board has been required to work with relevant agencies to study and propose a preferential wage mechanism on luring and keeping human resources of high-level professional and technical qualifications to manage and run urban railway projects.
Deadline for the board to submit the mechanism to the people's committee is in the fourth quarter this year .
The committee prompted the board to urgently report difficulties and problems beyond its competence and put forward solutions to speed up metro projects, outline control and supervision measures over the progress of each item in the first metro route Ben Thanh-Suoi Tien and the entire project.
It agreed with the board's proposal to auction bidding packages to speed up the second metro line project that has been adjusted. Contracts with bid winners will only be signed when the project's adjustments have been approved by authorized agencies.
Because the second metro line has been behind schedule, HCMC urged the board to positively and proactively coordinate with ministries, agencies and investors to timely solve the real problems. Any thing falling out of the board's jurisdiction must be immediately reported to the city people's committee.
They should also strengthen preparation works for the remaining metro projects.
The committee has assigned the Department of Planning and Investment to ask the Prime Minister to choose Toshin Development Ltd as investor of Ben Thanh underground trading center.