About 500 police, soldiers and fire fighters from Ho Chi Minh City participated in a rescue and fire fighting drill on October 21 at the Thu Thien tunnel, which is expected to open to traffic on November 20.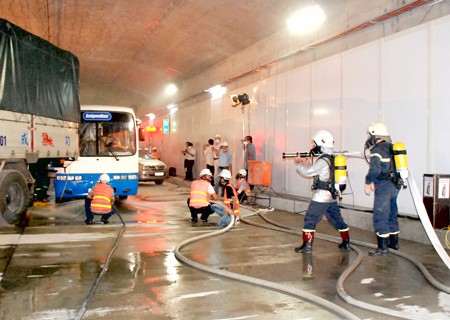 Fire fighters from Ho Chi Minh City participate in a rescue and fire fighting drill on October 21 at the Thu Thien tunnel (Photo:SGGP)
Dozens of ambulance, fire-engines and salvage equipment were deployed to run a training manoeuvre to rescue victims supposedly stuck inside the tunnel in event of a fire and to apply immediate first aid to the injured before rushing them to the nearest hospital.
The manoeuvre took place at the tunnel, based on a scenario of a speeding truck faced with a punctured tyre which then crashes into the tunnel. The truck catches fire after it crashes. The temperature in the tunnel suddenly increases and threatens 200 people trapped in the tunnel along with over 100 vehicles. 20 people are injured at the site.
The mock drill practice is expected to prepare local healthcare and police officials to be better aware of the complexities and logistics of such a situation before it actually happens.
A representative of the city's fire department said that fires can occur from vehicles speeding through the tunnel or from heavy load vehicles.
The tunnel is quite long and fumes from a fire can spread throughout the tunnel and threaten lives.
He said that it is not easy to approach a fire while it is still raging in the tunnel because of the length of the tunnel.
Colonel Le Tan Buu, deputy director of the Fire Brigade under the HCMC Police Department, said that the manoeuvre was aimed not only to raise public awareness about first aid, but also to find practical solutions for rescue forces and to improve their skills in different case scenarios.
He also said that he had immense faith in the fire fighting skills of the city fire department and related agencies, if any such situation should occur in the tunnel.