The organizing board of Ton Duc Thang Award 2015 governed by The Ho Chi Minh City Labor Union and Sai Gon Giai Phong Newspaper hosted an awarding ceremony to honour 15 outstanding workers and engineers at Saigon Opera House last night.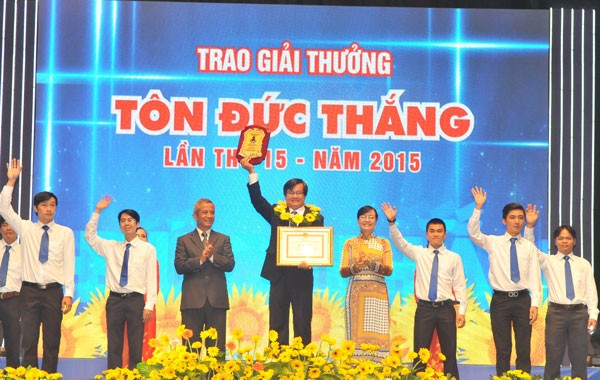 Vietnam Confederation of Labor chairman Dang Ngoc Tung and HCMC People's Council Chairwoman Nguyen Thi Quyet Tam give the Ton Duc Thang award to individuals (Photo: SGGP)
The union's chairwoman Nguyen Thi Thu said that the award honored engineers and workers with initiatives in technical innovation and practical scientific projects, which have contributed in boosting the city's development.
The awarding ceremony was among activities to mark the 127th birthday of late president Ton Duc Thang, an eminent worker and venerable leader of Vietnamese worker class, August 20.
Starting since 2000, the award has been given to 162 technicians and workers comprising 20 females from mechanics-manufacturing, electricity-industrial electronics, chemical-rubber-plastics and food processing, she said.
They have made nonstop efforts to improve ability, access and apply science and technology advances and more create in their working after getting the award, she added.
She proposed labor unions of all levels to speed up good and creative labor emulation movements to timely spot and develop creative individuals.
Chairman of the Vietnam General Confederation of Labor Dang Ngoc Tung appreciated the award quality and praised the 162 awardees for the last 15 years.
He urged all level labor unions in HCMC to continue improving workers' quality to meet requirements from global integration and implement patriotic and good labor emulation movements effectively and widely, focusing on private and foreign invested firms.
The award should target creative workers from key industries, industrial service and hi-tech fields, he added.
Co-attending the ceremony was HCMC People's Council Chairwoman Nguyen Thi Quyet Tam, People's Committee deputy chairman Tat Thanh Cang and Sai Gon Giai Phong Newspaper editor in chief Nguyen Tan Phong.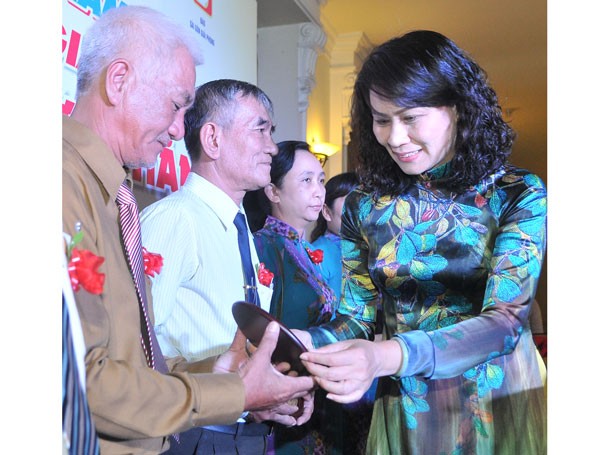 HCMC Labor Union Chairwoman Nguyen Thi Thu at the ceremony (Photo: SGGP)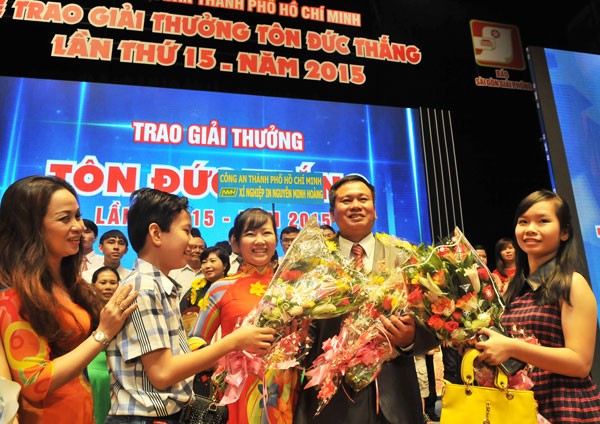 Relatives of an award winner (Photo: SGGP)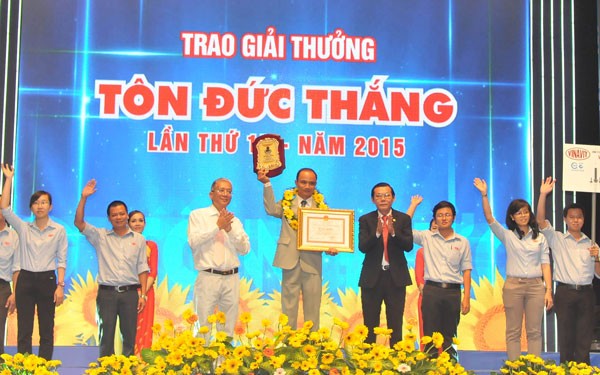 Sai Gon Giai Phong Newspaper editor in chief Nguyen Tan Phong awards the winners (Photo: SGGP)