Youth Communist Union Committee in Ho Chi Minh City held a meeting to honor good students on January 8.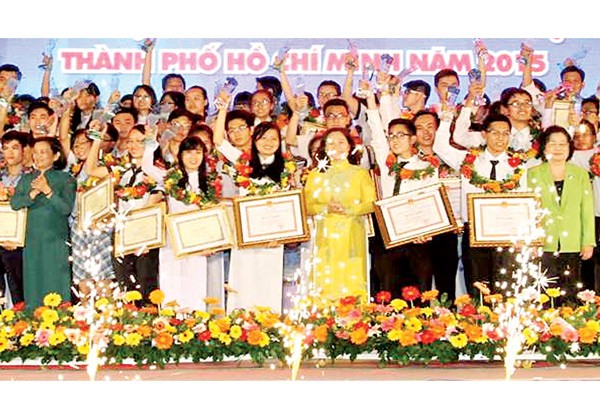 At the ceremony (Photo: SGGP)
233 students were awarded the title "Active students this year. All they are active in studies, in good lifestyle and and partaking in social activities. These students  achieved success in studies and social activities.  the jury board of the city Youth Communist Union Committee selected them from 346 documents sent from 77 schools.
72 good students were awarded the title " Students with 5 good points" who are selected from 132 documents sent from 29 schools and institutes. They have good ethics, good study quota, and best fit.

In addition, these awarded students are voluntary in social activities and good integrate with the community.

Among 72 students were honored, 68 students were honored by the Central Committee of the  Youth Communist Union. To be awarded these students have carried out outstanding researches, đreame of good life ideal, awareness.
Additionally, they are ready to take part in social activities and dynamic in international integration.
The event was attended by former Vice State President Truong My Hoa; secretary of the Ho Chi Minh Communist Youth Union Central Committee and chairman of the Vietnamese Student Association Le Quoc Phong and city's  Communist Party Committee leaders.