City Party Leader Nguyen Thien Nhan, Vice State President Dang Thi Ngoc Thinh, HCMC People's Committee chairman Nguyen Thanh Phong took part in the awarding ceremony.
The awards honor teams and individuals who have creative works in seven fields. In the total of 111 works applying for the wards, 44 were selected by the jury for four First Prizes, 15 Second Prizes and 25 Third Prizes.
Works winning the First Prize include the red alert process in emergency treatment for pediatric patients in critical condition by a group of four doctors from HCMC Children Hospital No.1, play Dau xua (Old Sign) by two authors from Small Stage Theater, wound healing gel by Dr. Nguyen Thi Hiep from International University under National University HCMC. The last work is study of the technological process of producing high resistant starches and low-sugar food products from Vietnam's foods for obese and diabetic patients by Associate Professor Dr. Pham Van Hung from the same university.
At the ceremony, city Chairman Nguyen Thanh Phong emphasized that the awards announcement and giving ceremony is a meaningful activity continuing to affirm the creative potential and unceasing reform of HCMC. Through the award, the city wants to ignite and cheer emulation spirit and creative culture among agencies, classes of residents and overseas Vietnamese.
He affirmed that the city leaders commit to further facilitating innovation activities.
Speaking at the ceremony, Secretary Nguyen Thien Nhan said that amid the context of financial resource shortage and limited land resource in HCMC, the biggest resource for development is human being. Hence, creativeness has become an urgent requirement to the city in the current period.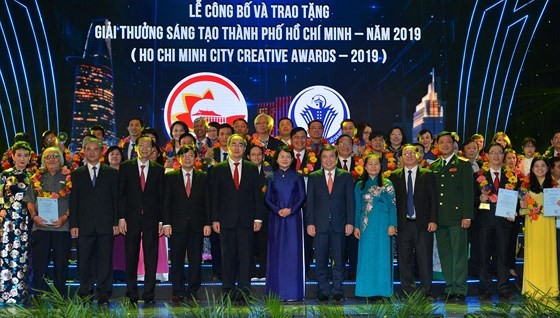 Leaders at HCMC Creative Awards 2019 (Photo: SGGP)
According to Mr. Nhan, creativeness plays a highly important role in bringing new knowledge, applying the new knowledge and new methods as well as creating new life. In order to have creativeness, there must be people with creative desire, methodically trained about creativeness methods together with policies encouraging creativeness.
He estimated that the 44 awarded ones are part of works which have contributed to the city's development for the last past. They are icons for creative contribution which has helped the city's labor productivity triple the country.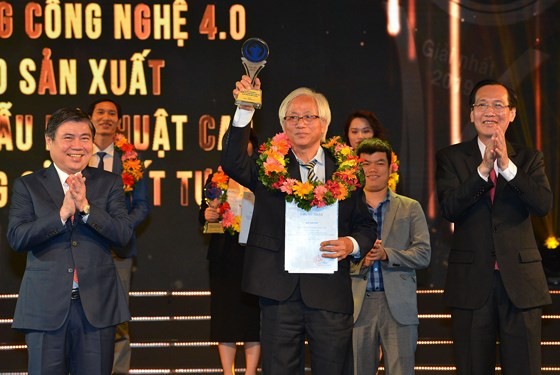 HCMC People's Committee chairman Nguyen Thanh Phong (L) and standing deputy chairman Le Thanh Liem (R) give the Creative Awards to the author of a work in innovation startup field
(Photo: SGGP)
From now on, each project which the city will implement must apply the newest technology in the field of the project, bringing the largest development for the city. The newest technology will come from scientists, domestic and foreign businesses and the fair and public selection by the municipal authorities, he said.
The secretary required a more efficient three-party relationship among the state, scientists and businesses to utmost promote the creative potential in each person.
Creative potential waste was faulty to the people and the Party, he said.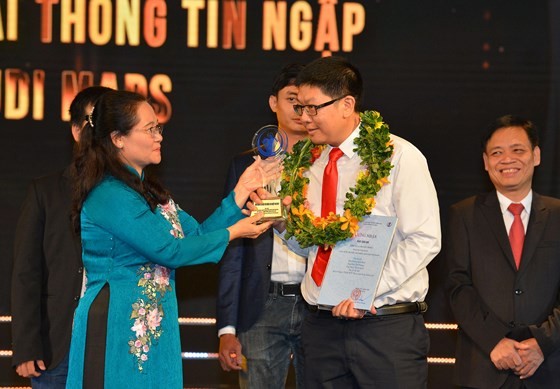 Chairwoman of HCMC People's Council Nguyen Thi Le (L) gives the awards (Photo: SGGP)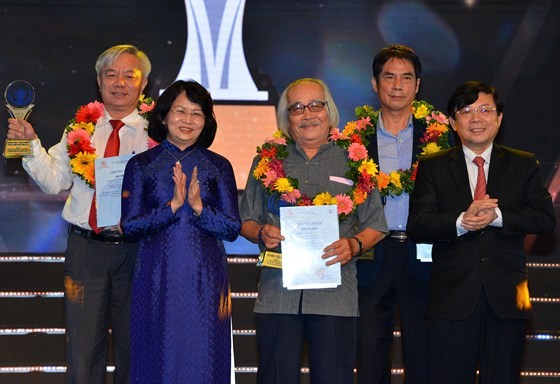 Vice President Dang Thi Ngoc Thinh (L) at the ceremony (Photo: SGGP)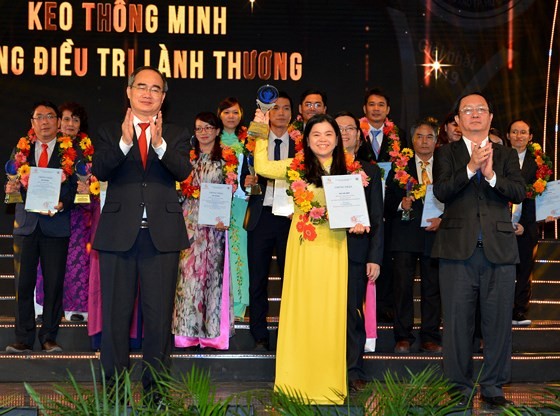 Secretary Nguyen Thien Nhan gives the awards to the author of wound healing gel work (Photo: SGGP)