A ceremony honoring seven "Outstanding Young Citizens 2011" will be held at the Youth Cultural House in Ho Chi Minh City on January 1, 2012.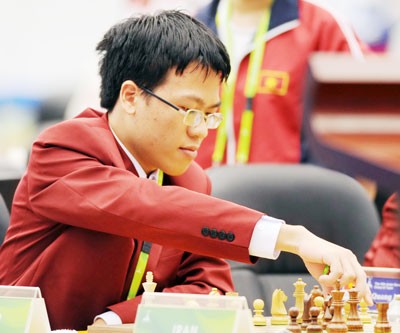 Le Quang Liem, Vietnam's top chess player  (Photo: SGGP)
Outstanding citizens of the city from diverse fields will be honored for their contributions, talents and accomplishments.
Vo Quoc Dat, working in the Police Department for criminal investigation of public security and social order in Ho Chi Minh City has handled hundreds of criminal cases and law violations, arresting more than 50 criminals.

Le Quang Liem, Vietnam's top chess player, took part in the under-20 category at the World Youth Chess Championship in Turkey in 2008 at the age of 17. He was ranked No.3 amongst top Asian chess players. Vietnamese Grandmaster Le Quang Liem won two gold medals at the 26th SEA Games. He also received the second-class Labor Medal for his contributions.

Doctor Nguyen Anh Truong, secretary of the Tam Binh orphan education center youth union, has become one of the volunteers to take care of children with HIV/AIDS, at the center.

Circus artists, brothers Giang Quoc Co and Giang Quoc Nghiep of the HCMC Circus Troupe won the Silver Lion award on October 31 at the 13th Int'l Circus Festival in Hebei Province in China for their performance "Power of the Arms". The performance has also won three prizes at the 13th International Circus Festival in Italy from October 13-17, which included a silver medal and two minor titles awarded by the world's leading circus groups, Monte Carlo Circus and Cirque du Soleil. "Power of the Arm" performance has also won first prize at the Vietnam-Laos-Cambodia young circus talent competition in 2009 and a gold medal at the Hanoi International Circus Festival in 2010.

Others being honored include Tat Ha My Linh, a student of the Saigon Tourist Hospitality College in Tan Binh District, and Nguyen Nhat Quang, a 9th grade student of Lac Hong Secondary School in District 10.