Chairman of the HCMC People's Committee, Le Hoang Quan and Governor of Japan's Hyogo Prefecture, Toshizo Ido, signed a preliminary agreement on economics, trade, and investment on Saturday.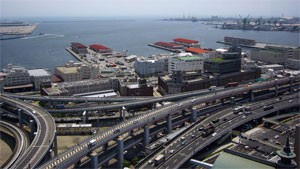 The Port of Kobe in Kobe, Hyogo
Among other things, the two sides agreed to boost exchanges between small and medium-sized businesses and share information about economics, trade, investment, environment, agriculture and human resources.
Both leaders expressed their hope that the ties between Ho Chi Minh City and Hyogo would help boost relations between Viet Nam and Japan.

The day before the signing, the Chairman, Mr Quan, paid a visit to the Earthquake Memorial Park in Kobe, the capital city of Hyogo. On January 17, 1995 an earthquake measuring at 7.3 on the Richter scale occurred at 5:46am near Kobe. More than 6,400 people died, 40,000 were injured, and large parts of the port's facilities and other parts of the city were destroyed.

Upon seeing a documentary film about the city's earthquake, Mr. Quan said he was so impressed with the way Kobe had recovered from the earthquake and progressed in subsequent years.

Afterward, the Vietnamese delegation visited the Port of Kobe which is one of the biggest hub ports in Japan, with large container terminals.

They also met with the Japan - Vietnam Partnership Club and were informed that approximately 3,700 of the 20,000 Vietnamese in Japan are currently living in Hyogo.

The Vietnamese delegation will leave Japan today, concluding a successful visit and strengthening relations between HCMC and Japan.