Ho Chi Minh City is expanding the Hanoi Highway and other connecting roads to the eastern gateway of the City, in an effort to improve traffic flow and connectivity to many provinces in the southeastern region.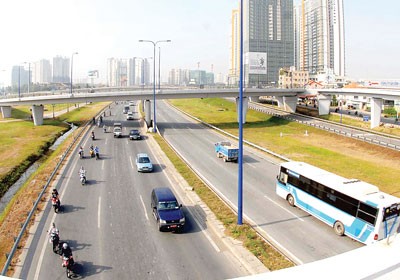 A view of Hanoi Highway from eastern gateway of HCMC (Photo: SGGP)
The Hanoi Highway plays a vital role in connecting HCMC with provinces of the southeastern region, however, a total capital of VND8 trillion (US$382.32 million) is still required to broaden the road to 16 lanes.
Some sections are already complete, which have helped ease traffic congestion on this route, especially the patch from Saigon Bridge to Thu Duc Crossroad. Cat Lai Flyover and Rach Chiec Bridge are not now facing the earlier traffic chaos anymore.
Saigon Bridge 2 is an important link on this route. The City People's Committee has instructed the HCMC Infrastructure Investment Company to complete and inaugurate the bridge by this year at the latest. The Bridge will then be able to ease 50 percent of vehicular traffic congestion at peak time in early morning and late afternoon hours every day.
Other works to improve better access through the eastern gateway include Thu Thiem Bridge, with investment of VND1.45 trillion; Phu My Bridge with VND2 trillion; Rach Chiec Bridge with VND1 trillion; East West Highway; and Thu Thiem Tunnel with VND10 trillion.
Besides, the City has also spent more than VND1.3 trillion to build link roads to Phu My Bridge and VND612 billion to broaden Road 25B.
Thu Thiem Bridge has been built since 2008 but trucks and container trucks are still unable to travel across because the Luong Dinh Cua project connecting East West Highway in District 2 is not yet complete.
Phu My Bridge could have helped ease much of the traffic pressure from the eastern gateway to the western gateway and to Saigon Bridge; however, since opening in 2009, vehicular traffic has not been as heavy as expected.
Luong Hoang Trung, deputy chairman of the HCMC Cargo Transport Association, said that the distance across Phu My Bridge is double that compared across Saigon Bridge.
According to experts, construction of the Phu My Bridge should have coordinated with the 3km eastern outer belt road that will connect the Bridge to Binh Thai Crossroad.