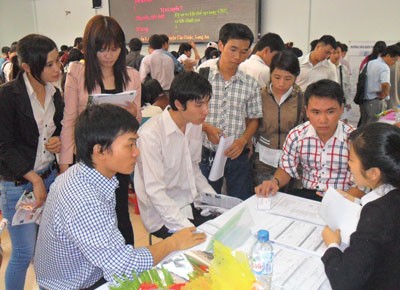 Students seek jobs at a Job Fair
According to the Man Power and Labor Market Forecast Center in Ho Chi Minh City, the shortage of man power usually occurs in some sectors after the traditional Tet festival, the city therefore needs around 30,000 labors.
Some sectors such as garment and textile, leather and handicrafts, services see the shortage. Enterprises are in demand of recruiting 15,000 permanent workers and approximately 8,000 seasonal employments with intermediate education level and unskilled laborers to fill the vacancies.
It is forecast that in March, the city needs around 30,000 employees in the fields such as mechanics, electronics and industrial electricity, architecture – construction techniques, plastic, real-estate and garment- textile.
Along with recruiting unskilled workers, enterprises also need qualified employees including 40 percent of those with three year and four year studying in colleges.