After five months of straight hikes, Ho Chi Minh City's inflation growth rate slowed this month, with the consumer price index increasing by only 0.23 percent as the government plans stockpiles and other stability measures.
The overall increase in the index, known as the CPI, over the January-April period was 4.02 percent, the city's Statistics Department reported.

Commodities posting the highest price increases this month included housing, electricity and water, fuel and construction materials (up 1.96 percent), followed by culture, entertainment and tourism services (up 0.66 percent), and hospitality services (up 0.62 percent).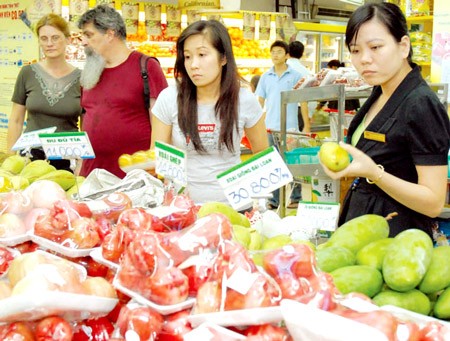 Shoppers at a Co.op Mart supermarket on Cong Quynh Street, HCMC. The city's January-April CPI is up 4.02 percent as the local government tries to stabilize market prices and restrain inflation at seven 7 percent. (Photo: SGGP)
The price of food and foodstuffs, meanwhile, registered decreases of 2.05 percent and 0.23 percent respectively.
The decline in local food prices resulted from lower world rice prices as global demand continues to rise, mostly due to production in the world's two largest rice exporters, Thailand and Vietnam, analysts said.

Slightly higher prices for garments, footwear, construction materials, motorbike parts and housing utensils resulted from rising input costs such as electricity, water, petrol, and raw materials.
Meanwhile, restaurant, hotel and beverage prices have been on the rise due to the high demand for refreshment during a prolonged dry season and the current heat wave.

The price of gold and US dollars declined slightly in April, by 0.83 percent and 0.97 percent respectively.

However, the index increased by 9.99 percent over the same period last year, prompting the city government to plan several measures aiming to keep inflation at or below seven percent on the year while achieving annual GDP growth of 11 percent.

Over US$47 billion for goods reserve

To stabilize market prices and restrain inflation, the HCMC Finance Department plans to manage market prices and punish those who violate price regulations.

The city Department of Industry and Trade has said it will ensure a supply and demand balance for goods on the market, especially for essential commodities. The department plans to encourage retailers to distribute goods directly to customers, particularly at industrial parks and export processing zones, where thousands of workers congregate daily. Distribution to remote areas will also be stepped up, the department said. 
     
The Ho Chi Minh City People's Committee said it would hold regular dialogues with manufacturers of goods to address how obstacles to business development can be removed or avoided.  

In its latest effort to stabilize market prices, the authorities have said they will spend VND900 billion (US$47.37 million) ensuring supplies of eight essential commodities. The reserves are expected to account for about 30 percent of the total volume of the items on the market.

These commodities will be sold at prices about 10 percent lower than market rates, the committee said.