HCMC Party Committee Secretary Le Thanh Hai yesterday met with a leader of Congress of Republic of Korea (RoK), chairman of ruling Saenuri Party, ministers in the RoK Government during his visit to RoK.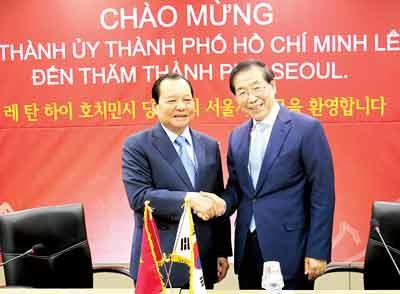 Seoul mayor Park Won Soon receives HCMC Party Committee Secretary Le Thanh Hai (L) on May 26 (Photo: SGGP)
RoK gives top priority to Vietnamese workers
Chairman of Saenuri Party Kim Moon Sun expressed happiness to see the relationship between Saenuri Party and Vietnam Communist Party more and more developing, especially after the two sides signed a cooperation Memorandum of Understanding (MoU) in the phase 2015-2016.
At present, South Korea's  large groups  have signed an agreement to employ workers from 14 nations and given top priority to Vietnamese.
Meeting RoK National Assembly Chairman Chung Ui Hwa, Secretary Hai said that Vietnam in general and HCMC in particular desired that RoK and the chairman would give assistances to  Vietnam and HCMC.
He hoped that Chairman Chung would continue encouraging RoK ministries, agencies and businesses to boost their collaboration with Vietnam and HCMC.
Support industry development
Visiting RoK Minister of Trade, Industry and Energy Yoon Sang-jick and Minister of Agriculture, Food and Rural Affairs Lee Dong Phil, Mr. Hai affirmed that the Vietnam-RoK Free Trade Agreement was an important basis to further trade and investment between the two countries, contributing to reaching the target of US$70 billion bilateral trade turnover by 2020.
Mr. Hai hoped that Ministers Yoon and Lee would give Korean small and medium enterprises a hand to boost their investment in Vietnam's support industry in fields of electricity, electronics, machines, hi-tech agriculture and food processing.
Minister Yoon said the assistance was inevitable because Vietnam was the third largest export market of South Korea after the U.S. and China.
"We are willing to share experiences and join hand with Vietnam to develop the support industry in the future," Mr. Yoon said.
Many Korean companies have moved their business to Vietnam instead of China, contributing to increase of the Vietnam-RoK trade turnover and assurance of steady material supply sources for Korean producers.
Receiving the HCMC delegation at Seoul city hall, mayor Park Won Soon said that Seoul wanted to work with HCMC in many fields that it is in a strong position especially the support industry.
Mr. Hai promised to create the most advantageous conditions for Seoul companies to operate in HCMC.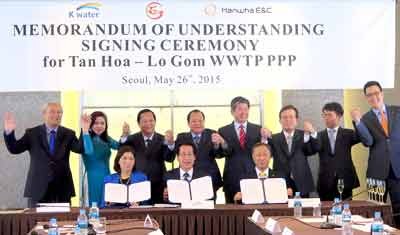 The MoU signing ceremony for Tan Hoa-Lo Gom wastewater treatment project (Photo: SGGP)
Talking to chairman of Korea International Cooperation Agency Kim Young Mok, he expressed gratefulness to the agency's assistances in Vietnam which have brought positive results in many fields.
HCMC expected that the agency will continue giving Vietnam with financial assistance to implement projects in solid waste treatment, environmental hygiene, urban traffic, climate and sea level rise.
On the same day, Mr. Hai received representative of the Korea Foundation.
 
MoU signing on Tan Hoa-Lo Gom wastewater treatment project
On May 26, the HCMC Department of Planning and Investment and Hanwha Engineering & Construction Corp. signed a MoU on a wastewater treatment project in the valley of Tan Hoa-Lo Gom Canal under PPP (Public Private Partnership) form.
The signing ceremony was attended by Secretary Le Thanh Hai and HCMC People's Committee deputy chairman Nguyen Huu Tin.
The project's capital is expected to reach US$200 million excluding site clearance and compensation costs.
It will comprise three main items a pumping station, a wastewater treatment plant and a pipeline system to take wastewater from the station to the plant.
The project with an average capacity of 300,000 cubic meters a day will be built over 22 hectares in Binh Chanh District to treat s all wastewater released from valley areas of Tan Hoa-Lo Gom Canal.
At present, the wastewater is collected into an 8km combined sewer that has just been built before running to Tau Hu-Ben Nge Canal without any treatment.
Related articles:
HCMC signs cooperation MoUs with RoK giants
Ho Chi Minh City high ranking officials visit South Korea