Ho Chi Minh City will invest VND40,600 billion (US$1.79 billion) to improve norms in the New Rural Development Program and increase income for rural citizens in the phase of 2016-2020, reported the program's Coordination Office.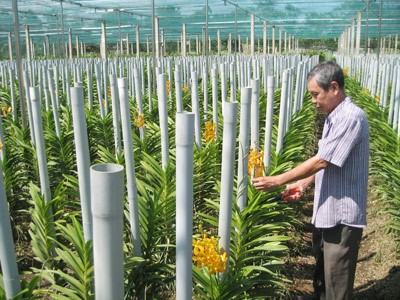 The man looks after his orchid garden in Tan Thong Hoi new rural commune, Cu Chi District, HCMC (Photo: SGGP)
At a conference hosted in HCMC yesterday, the office said that VND16,390 billion would come from the state budget and the remaining funds from community contribution, loans and businesses.
Each commune will receive an average of VND726 billion ($32 million) to upgrade new rural norms. Farmers' income will increase from VND40 million ($1,765) a person a year in the phase of 2011-2015 to VND63 million ($2,780) in the following five years phase.
Permanent deputy chairman of the city People's Committee Le Thanh Liem said that new rural norm upgrading aimed to increase the income of rural citizens and shorten the earnings distance between them and urban people.
Permanent deputy secretary of the HCMC Party Committee Tat Thanh Cang said that implementation of the program must base on specific characteristics of each commune and hamlet in order to develop key products and increase locals' takings sustainably.
He urged local authorities to build residential areas for locals to gather instead of scattering as present. This aims to facilitate infrastructure development to better serve their daily life.