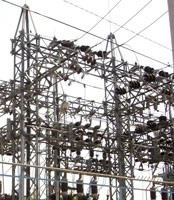 A mid-voltage system in Ho Chi Minh City (Photo: TC)
Ho Chi Minh City Department of Industry has revealed a plan to spend VND1,000 billion on upgrading the electricity grid in the city's three districts of 2, 5 and 9 in the 2006-2010 period.

The plan, announced on March 27, aims to enable the city's grid to apply advanced technology to keep up with the city's future growth.

The maximum capacity is 130 MW in District 2, 120 MW in District 3 and 190 MW in District 9; average electrical energy per capita will increase from 1,500 kW per year at present to 3,100 kW in 2010. The total capital to develop new low-voltage and mid-voltage system reaches VND1,000 billion. The present power system will be buried underground to ensure effectiveness and to improve city's panorama.

Electricity plans for remaining districts will be announced soon, while the first-ever electricity grid blueprint will be publicized in Ho Chi Minh City, said the Department of Industry.