Around 6,650 job-seekers were interviewed during a two-day job fair in Ho Chi Minh City over the weekend. The fair, held March 20-21, resulted in 3,663 people being hired for jobs related to manual labor, engineering, mechanics, information technology, sales and accounting.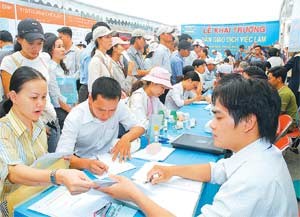 Job seekers register for interview at the fair in Ho Chi Minh City on March 21. (Filed photo)
A total of 54 enterprises registered for the event, seeking around 18,300 workers. Sixty-three other businesses held online exchanges to recruit 1,800 employees.
Around 3,970 people registered for work placements through a website provided by the fair.
The event was jointly organized by the HCMC Youth Center House and the Job Center for Youth.
On the same day, the Youth Union in District 1 also held a job fair. Twenty companies in the district registered to recruit more than 3,000 employees.